About Hanoi : Hanoi, located on the banks of the Red River, is one of the most ancient capitals in the world, where travellers can find well-preserved colonial buildings, ancient pagodas, and unique museums within the city centre. A great place to explore on foot, this French-colonial city is also known for its delectable cuisine, vibrant nightlife, silks and handicrafts, as well as a multicultural community that's made up of Chinese, French and Russian influences.
Meanwhile, its tranquil countryside is a short drive away, featuring lush parks, verdant mountains, and traditional villages, and not forgetting, the iconic Ha Long Bay. If you're a first-time visitor to the Vietnamese capital, our Hanoi travel guide has everything you need to know for a fulfilling holiday, including the best accommodation, restaurants, attractions, shopping, and detailed information on the local culture, currency, climate, and  transport options.
Best time to travel to Hanoi: Although Vietnam has a tropical climate : hot and ranily. Hanoi city has 4 seasons in year : Spring (Feb – Apr), Summer (May-Aug) , Autumn (Sep – Oct) and Winter (Nov – Jan). Our suggesting  you should travel to Hanoi in the Autumn, because at that time, the weather is cool, not too hot than Summer and too cold than Winter. It is the perfect time to plan a trip to Hanoi.
Language in Hanoi : Vietnamese is the local language. However, the staff at the hotel, restaurant, vendors, taxi driver can speak english.
Currency in Hanoi : Vietnam has Vietnamese Dong. The rate of exchange you can search on the internet or you can exchange money at Silver shop, hotel where you are living, bank but better to get good rate, you can come to Ha Trung street – located in the Old Quarter, they have many shops to exchange money from there. Go to number 27 Ha Trung – Quoc Chinh. The current rate is around VND 22,830 = USD 1.
Mode of payment : Cash is popular used everywhere, some where accept credit card.
IMPORTANT : Double check and count to make sure you get enough money. The money has a lot of zero and the same color, that is why it is confusing. There are many photos of money on the internet and also nearly how much by USD. Check it first to make sure you know what it is.
Check out : 5 Crazy thing experience must try in Vietnam.
WHERE TO STAY IN HANOI :
Nowaday, on the Internet, there are many apps that can help you to look and book a room with a detailed price. You can base on the review of the hotel to make a decision. Some of the names like : Agoda, etc. We prefer you should book a hotel in the Old Quarter, it's nearly a restaurant, bar, pub and a community of foreigners. 
There are also many apartment, hostels for backpackers, easy to find in the Old Quarter.
HOW TO GET TO HANOI, VIETNAM : Just check by Asian Public Transportation.
HANOI CITY FROM HANOI AIRPORT :
BY BUS:
BUS 86 : Hanoi Airport – Hanoi Train station . The Bus will pass by the Old Quarter, you can ask coach and ask them to drop off you some where near your hotel, then you can take a Grab or Uber or Taxi to get your hotel. The ticket price is 35.000 VND (~2 USD).
BY TAXI : You can ask the hotel where you book a room for a taxi, they will organi to pick you up at the airport. Be careful with some brand taxi there. There are many hotels with the same name hotel in the Old Quarter, and some airport taxis can lie to you, charge you an expensive price and take you to another hotel where they end up and take money for that.
BY GRAB : Download Grab app in the Appstore or CH play, it seems like Uber and they already show how much it costs. 
HANOI FAMOUS DESTINATIONS :
HO CHI MINH MAUSOLEUM : Ho Chi Minh was one of the most important leaders in Vietnamese history. His body is preserved in this mausoleum, laid to rest in a glass case so that visitors can pay their respects. Modest dress and quiet reverence are prerequisites while you're inside.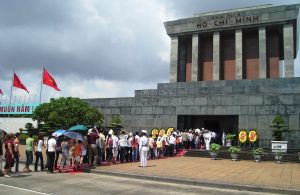 HOAN KIEM LAKE : Hoan Kiem Lake (Turtle Lake) is a popular hangout spot for locals and foreigners. On an island in the centre lies Ngoc Son Temple, linked by a graceful red bridge. It serves as a fabulous background for photos, and if you're lucky you might catch couples doing their engagement photo shoots here too.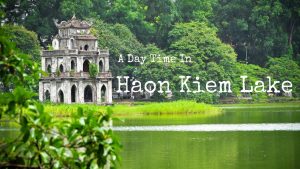 HANOI OLD QUARTER : Hanoi Old Quarter is a lively area where travellers can enjoy many fine examples of colonial architecture packed along narrow streets. This is the city's ultimate shopping spot, and is full of cafés and restaurants to indulge in some delicious Vietnamese cuisine.
TEMPLE OF LITERATURE : This charming temple complex hosts the Imperial Academy, the oldest university in Vietnam. It was built in 1070 by Emperor Lý Thánh Tông's dynasty to serve as a centre of learning, dedicated to the Chinese scholar Confucius.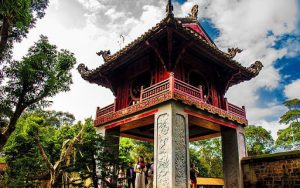 HOA LO PRISON : This prison was built by the French in the 1880s, and was sarcastically named by American POWs as the Hanoi Hilton. Hoa Lo literally means, stove; it was certainly no Hilton. Senator John McCain was held here after his capture, and his uniform is on display.
ONE PILLAR PAGODA : This pagoda is built on a single wooden pillar that's just 1.25 metres in diameter. The story goes that heirless emperor Ly Thai Tong dreamt that he met Quan The Am Bo Tat, the Goddess of Mercy. Soon after, he married a young peasant girl who gave him a son. The pagoda was built between 1028 and 1054 to express his gratitude to the goddess.
WEST LAKE : This is the biggest freshwater lake in Hanoi. Located right in the centre of the city, it makes for a perfect evening walk. You can easily get to other places nearby and there are plenty of restaurants, bars and shops here to explore. Great photo opportunities await.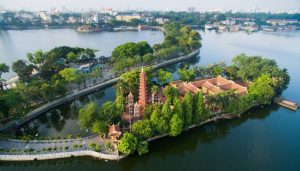 HANOI TRAIN STREET : This is a narrow street in the Old Quarter, where train tracks running right down the middle allow trains to pass terrifyingly close to the houses. The daily life of the locals have to be packed up multiple times a day when a train is scheduled to pass. It's somewhat similar to Maeklong Railway Market in Thailand.
HANOI TOURS :
LOCAL STREET FOOD: This day tour is ideal for unapologetic food lovers as they get to feast on popular Vietnamese street food such as including bun cha, pho, crab noodle, pork porridge, and savoury Vietnamese pancakes (ban xeo) as well as exotic snacks such as grilled quail, golden pillow cakes, eel noodle, shrimp cake, and snails. Those with specific dietary needs can easily have their guide customize this tour accordingly without missing out on the must-haves of Hanoi street food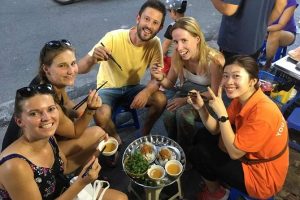 HANOI CITY TOURS : Enjoy a full day of exploring some of Hanoi's most important historic and cultural landmarks with a knowledgeable tour guide and fellow travellers. Inclusive of lunch at a local restaurant, you will first visit the Ho Chi Minh Mausoleum to learn about the structure's unique history and architecture from your guide, before moving on to the One Pillar Pagoda, Tran Quoc Pagoda, Bat Trang pottery village, Ethnology Museum, Literature Temple, Hoan Kiem Lake and Ngoc Son temple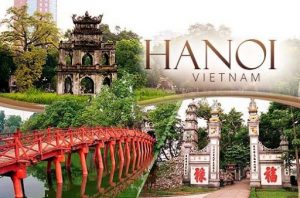 HANOI MOTORBIKES TOURS : Check out VIETNAM BACKSTREET TOURS to get a half-day tour or full-day tour in Hanoi. The tour includes English speaking guide and driver, street food and local experience and minsk bike. The guys will pick you up at your hotel, then take you around Hanoi to see local real things, talk with local people to get their life, try local street food. 
DISCOVERY HANOI BY YOURSELF : Nowaday, Hanoi is famous destination, a lot of review blooger, so you can find and information you want on Internet, and easy to make plan without travel agency. Rent a bike and make it unique by yourself. Check AZ Motorbikes for more info.