Vietnam is famous for its bustling Hanoi and Ho Chi Minh cities and Instagram-worthy tourist destinations like Ha Long Bay, the Mekong Delta, and Da Nang. It's also known for the universal appeal of its rice noodles (Pho) and the ritual-like experience involved in preparing a cup of Vietnamese coffee, as well as its beautiful national costume, the Ao Dai. Vietnam is also known for the Vietnam War, historical cities, and its French-colonial architecture.
Walking into 6 lanes of oncoming traffic in Ho Chi Minh (Saigon) :
Traffic in Vietnam is undeniably chaotic, especially in Ho Chi Minh and sometimes motorists will use sidewalks ( peak hour) , walking streets, and narrow alleyways to get to their destination. As dangerous as it sounds, it's important not to panic when you're walking into six lanes of oncoming traffic. The best strategy is to stick with a group of locals, walk at a steady pace…and pray!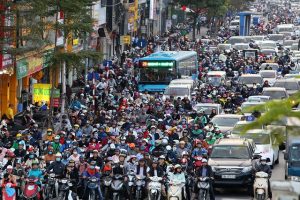 .Bargain at the local markets :
Exploring local markets are great for lots of things, including authentic Vietnamese food, bustling atmosphere, and a colourful display of stalls selling fresh produce, household items, and apparel. You'll also get to see unusual sights such as old ladies smoking local tobacco (huge hand-rolled cigarettes) and freshly butchered meat and fish on display. Sometimes, if you are lucky, you can see how they kill animals at some corner of the market, they kill them on this site and when it is done on this site, it is nearby, to show people every of them fresh, and good quality lol. If you're looking to buy anything, bargaining with the vendors is the best way to get a good price. 
Drinking USD 0.50 beers at Bia Hoi Junction in Hanoi: 
A trip to Hanoi wouldn't be complete until you've spent the evening at Bia hoi Junction, located in the centre of the Old Quarter ( Ta Hien, Ma May, Dao Duy Tu) . The city's busiest nightlife venue is filled with plastic stools for people to sit on whilst enjoying local beers for as little as USD 0.50 per glass. There are also plenty of street vendors serving steamed peanuts, beef jerky and other exotic snacks if you're feeling peckish. There are all kinds of things cheaper you can buy when you want to drink beer, it's cheap but the taste is perfect when you try it together. 
Staying with a hill tribe family in Sapa:
One of the best ways to get full experience of the local lifestyle is arranging for a homestay in Sapa's traditional villages. Best of all, its many hill tribes, such as Giay, Hmong and Red Dao, are more than happy to offer you a place to stay at their homes, where you can enjoy authentic regional dishes, dress up in local costumes, and try your hand at working in the fields. The weather of Sapa normally is 20-23 degrees in Summer, and really cold in winter, sometimes snowing. If you are planning to go to Sapa, it's better summer.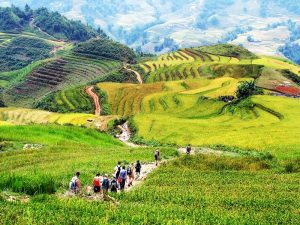 Sandboarding in Mui Ne Sand Dunes: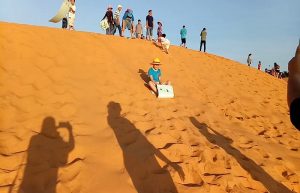 The Sand Dunes Mui Ne are popular not only for their picturesque landscapes, but also for offering fun-filled activities such as sandboarding, kite flying and quad-biking. You can find plenty of tour operators in Mui Ne that organise day trips to these Saharan-like red and white sand dunes, while plastic sheds are available for rental at affordable prices.
#5crazythingmustdoinvietnam #vietnamcrazy #vietnamtravel