AZ MOTORBIKES: TOP MOTORBIKES RENTAL SERVICE IN HANOI
As the enchanting city of Ha Noi continues to captivate visitors from all corners of the globe, the demand for motorbike rental services has been on a significant rise. Tourists and expatriates alike seek the most authentic and immersive experience of the capital's unique charm and the picturesque beauty of its surrounding regions. In the midst of this burgeoning trend, AZ Motorbikes has emerged as a renowned and highly reputable motorbike rental service in Ha Noi, catering to the diverse needs of travelers seeking to explore the city and beyond on two wheels.
With a dedication to providing top-notch customer service and well-maintained, reliable motorbikes, AZ Motorbikes has become a preferred choice for those seeking to venture beyond the typical tourist paths and discover the hidden gems of Ha Noi and its environs. Whether it's for a short, thrilling escapade through the bustling streets of the Old Quarter or an exhilarating journey to the serene countryside, AZ Motorbikes offers an extensive fleet of bikes to suit various preferences and travel itineraries.
The team at AZ Motorbikes understands the importance of convenience and peace of mind when it comes to renting a motorbike in an unfamiliar city. Thus, they take pride in ensuring that each motorbike is meticulously inspected and maintained to ensure optimal performance and safety. Additionally, their knowledgeable staff is always ready to provide recommendations and guidance on the best routes, local attractions, and must-visit destinations, ensuring that every customer embarks on an unforgettable adventure.
For both seasoned motorbike enthusiasts and first-time riders, AZ Motorbikes is a reliable partner, ready to accompany them on their journey to unlock the essence of Ha Noi's cultural tapestry and natural wonders. As the word spreads about their exceptional service and commitment to customer satisfaction, AZ Motorbikes continues to garner accolades from satisfied clients, further solidifying their position as a trusted and preferred motorbike rental service in Ha Noi.
ABOUT AZ MOTORBIKES
This is Mr. Kien The owner of AZ MOTORBIKES. He has achieved the excellent third place in the Manhunt International 2022 competition in the Philippines.
Starting a business with a passion for motorbikes, the owner, Tran Manh Kien soon found his own path for career development. Born in a family providing repairing and selling motorbike services for nearly 40 years, he has been familiar with motorbikes since he was a child.
AZ Motorbikes is now a top motorbike rental agency specializing in motorbike rental and sale for foreign travelers.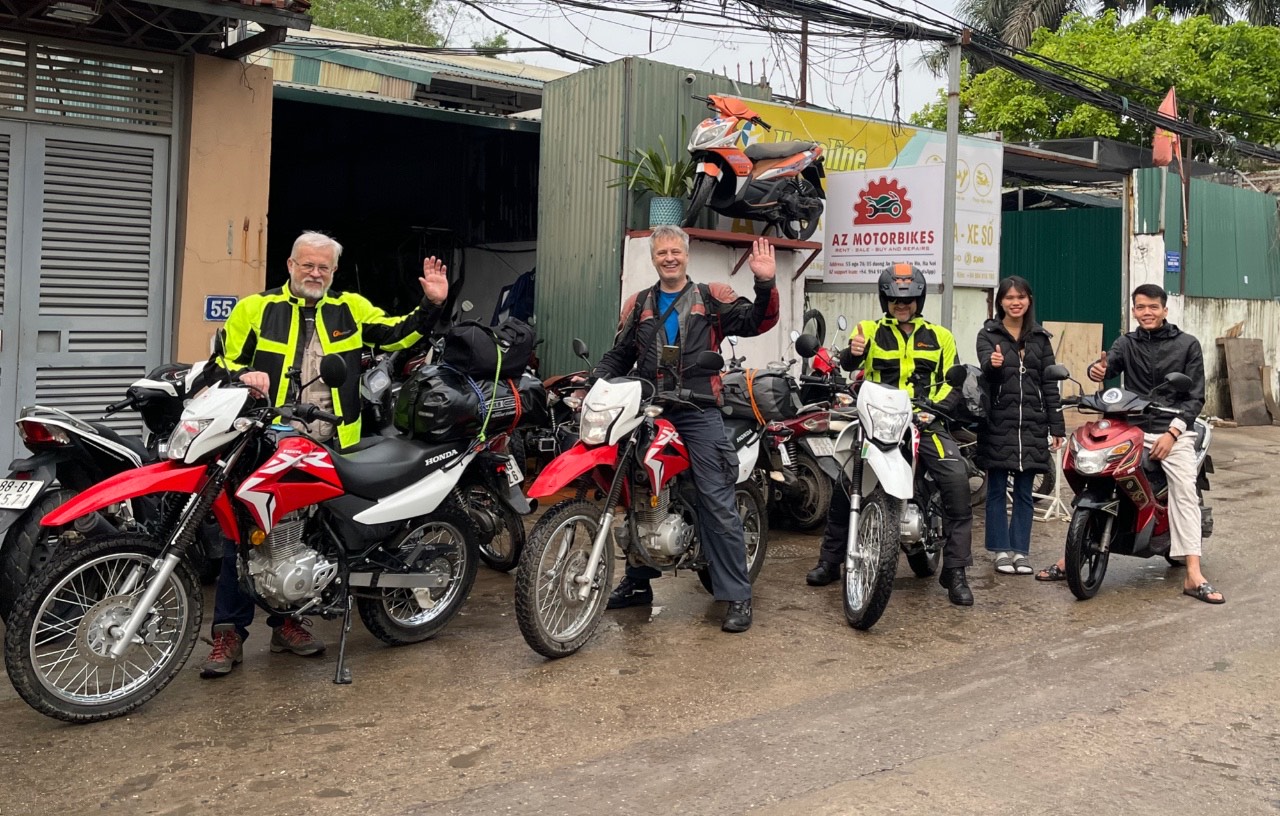 AZ Motorbike – A well-known motorbike rental company in Hanoi
WHY CHOOSE AZ MOTORBIKES
The quality of motorbikes is guaranteed in good condition and whatever the case, customer safety is the top priority.
Huge range of motorbikes with reasonable prices for tourists.
A team of professional and enthusiastic staff ready to serve customers 24/7.
Approximately 10-year experience in repairing and trading motorbikes.
With a system of various branches in Vietnam, AZ Motorbikes gives foreigners a one-way motorbike rental service. You can rent a motorbike from this shop in Hanoi and return it in Ha Giang, Hoian, or Ho Chi Minh City.
Since its owner prioritizes customer safety, AZ Motorbikes brings fast and reliable support throughout your rental and has a full range of authentic riding equipment and gears to ensure the best quality of each motorbike.
Professional and enthusiastic AZ Motorbikes Team
TYPES OF MOTORBIKES FOR RENT/SALE
With various designs and good quality, there are multiple options for different needs for you:
Manual motorbikes for long-distance travel: Honda XR 150 – 300cc, CB 500x, Honda WinnerX, Wave Alpha 110cc, Win Detech,…
Common brands for riding in an urban area: Honda Lead, Vision, Air Blade, Nouvo 135cc,…
High-quality motorbikes with stylish design
If you are not ready for a manual bike and scooter, a semi-manual bike can be a good alternative, because these vehicles can be used for long-distance trips. All motorbikes at AZ Motorbikes are monthly maintained and after trips to ensure they are in the best condition.
AZ MOTORBIKES POLICY
Topped off by optional motorbike lessons and more, you will certainly have an unworried trip on a motorbike. Moreover, you will be supported to fix minor errors on your bike by professional English-speaking mechanics at the modern garage of AZ Motorbike in Hanoi.
The motorbike rental fees of AZ Motorbikes include:
| | |
| --- | --- |
| Helmet | A mandatory item when you ride anywhere in Vietnam |
| Tool kit | Used for fuss-free repairs on and off the road |
| Raincoat | An important thing to bring in case a sudden rain occurs |
| Calling support & Assistance | Your bike will be picked up for checking/fixing in the event of a mechanical fault |
Have a carefree trip on a motorbike from AZ Motorbikes
AZ Motorbikes will buy back your motorbikes after your journey up to 40 – 70% value of the bike depending on its status. They also support bike delivery within a radius of 10km.
AZ Motorbikes accepts different payment options:
Cash
Bank Transfers
Visa
MasterCard
American Express