Weather In Vietnam In April
The Weather in Vietnam in April seems to be the most comfy as compared to other months of the year. It's just the start of summer in the northern  Vietnam that sees only a slight rise in temperature level to about 32 degrees Celsius, therefore, you can enjoy the seething climatic conditions.
Meanwhile, the central part of Vietnam still maintains dry season during the April month. However, the South of Vietnam starts entering into the rainy season and the spots more downpours. But they happen very quickly and do an outstanding job in dropping the daytime heat.
4 Places To Visit In Vietnam In April
There are numerous places to visit in Vietnam. None should be skipped if you are travelling in April month. Just have a look at them why a visit to these places is important.
1. Mu Cang Chai, Yen Bai
Located nearly 300 kilometres in the mountainous northeastern region of Vietnam, Mu Cang Chai in April is an amazing place to visit and explore the uniqueness of this region. If you are into nature and photography, as well as concerned in the hill-tribe culture, you should never miss out on Mu Cang Chai. It will offer you lots of such exclusively themed avenues for your assessment.
2. Pu Luong Thanh Hoa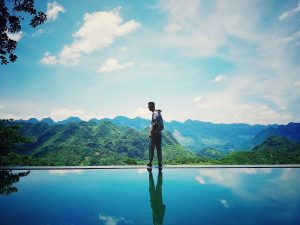 Pu Luong is the best place to visit in Vietnam in April. This place provides you with a refreshing escape from the crowds with its splendid mountain ranges, scenic rivers, and waterfalls that bring you close to natures' bounty. It also offers you a great opportunity to have an insight into the long-standing agriculture of Vietnam during this month when the agriculture activities are in the full swing.
3. Nha Trang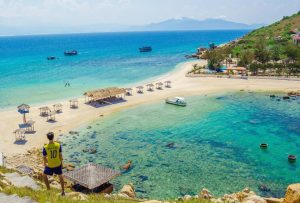 Nha Trang is the most famous seaside town in Vietnam. It provides a wonderful scene and outstanding services to travellers. What a real peaceful place for days without any complain. This is what keeps you hooked during your April trip.
Things to Do: Island hopping, scuba diving, flyboarding, and water skiing.
Food to Eat: Fresh seafood, barbecued pork rolled in rice paper, and bird's nest soup.
4. Ninh Binh
Ninh Binh is situated at the edge of the Red River Delta, Trang An and is a rare place where long-standing rice cultivation still maintains. Travel about only two hours by car from Hanoi to feel the serene beauty of the region. It is an excellent place where the happy green paddies turn yellow gradually. And also, Ninh Binh as know as another capital of Vietnam before Thang Long ( Hanoi now). There are many ancient site, where you can explore history of Vietnam from last century.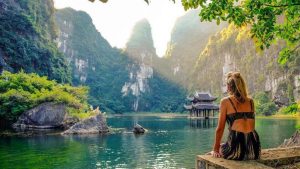 Coppyright by traveltriangle