October graces the northern region with an exquisite climatic tapestry, rendering it the quintessential time for intrepid motorbike journeys. A solo adventure during this month can bestow unparalleled experiences, allowing you to surrender yourself to thrilling routes that brim with interesting sensations, while your gaze extends limitlessly into the magnificent panorama that this land offers.
 In addition to an ardent spirit, the indispensable element is an exceptional motorcycle to accompany you on this voyage. At AZ MOTORBIKES, we present a diverse array of meticulously maintained rental bikes, each exuding outstanding quality, promising to immerse you in an extraordinary expedition.
Is your destination a place where you can untether your soul to nature, leaving behind the weight of your worries? AZ MOTORBIKES stands ready to unveil five sublime destinations, perfect for an October sojourn in the northern realm, where you can wholeheartedly embrace the resplendent allure of autumn.
Hà Giang: Admire the Buckwheat Flowers
Hà Giang is a lush land, rich in cultural diversity, home to over 20 ethnic groups. Located approximately 300 kilometers north of Hanoi, it stands as the northernmost point of our country. This picturesque land is beautiful year-round, but it shines brightest during the autumn season. At that time, you'll have the opportunity to immerse yourself in fields of buckwheat flowers. Standing amidst a sea of red and white blooms, you'll feel like you've stepped into a fairy tale.
Autumn in Hà Giang is renowned for its vast stretches of buckwheat fields, captivating the attention of thousands of tourists each year. It's a mystery how these delicate, tiny flowers manage to thrive in the rugged terrain of the far north. Buckwheat flowers hide within the latent vitality of wildflowers, quietly nurturing each life from the earth, only to burst into radiant red at the end of the year, stirring the hearts of all who behold them.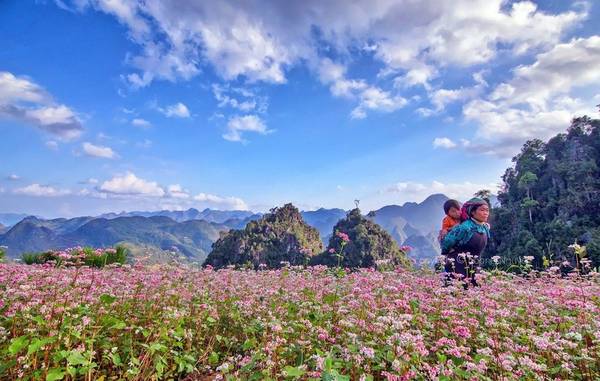 The majority of buckwheat flowers in Hà Giang can be found in areas like Cung Đồng Văn – Mèo Vạc and Cung Xí Mần – Hoàng Phu Sì. Typically, to visit and capture these flower fields, you'll need to pay a small fee of around 10,000 VND per person. Importantly, remember not to step on or pluck the flowers without seeking permission from the field's owner. Apart from the poetic charm of the buckwheat flowers, visiting Hà Giang during this season offers you the chance to traverse roads adorned with golden rice fields, stunning terraced landscapes, or explore other renowned areas in Hà Giang such as the Sủng Là Valley, the ancient town of Đồng Văn, and the rocky plateau of Đồng Văn.
From Hanoi, you can travel to Hà Giang by motorcycle or passenger bus, but based on the travel experience in Hà Giang, going by motorcycle is recommended. This way, you can freely explore the region and easily stop to admire the breathtaking scenery along the way.
Exploring Sapa in Late Autumn
Sapa, located 376 kilometers from Hanoi and 38 kilometers from the city center of Lào Cai, stands at an elevation of 1,600 meters above sea level. With its temperate climate, Sapa offers a perpetual sense of mildness and freshness that deeply resonates with visitors.
Traveling to Sapa in the autumn season presents you with the opportunity to behold the breathtaking terraced rice fields, which cascade like golden ribbons around the majestic hills. The early days of the month also bring a bountiful harvest season, with golden sunlight bathing the rolling highlands, harmonizing with the golden hues of ripening rice, creating a scene that is truly picturesque and exquisite.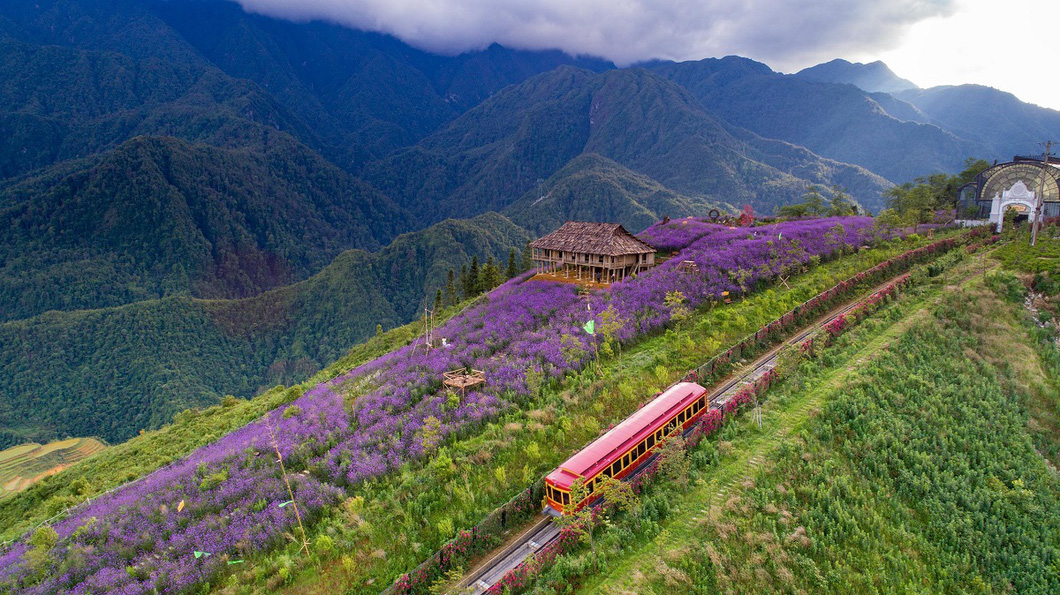 Moreover, don't forget to explore other famous tourist destinations in Sapa, such as the misty landscapes atop Hàm Rồng Mountain, the stunning Silver Waterfall, the Ô Quy Hồ Pass, or indulge in the rich mountainous flavors of the local specialties here. And, most importantly, don't miss the chance to ascend the "Roof of Indochina" to witness the grandeur of this remarkable landscape.
Fansipan – the "Roof of Indochina"
Mộc Châu Plateau
Mộc Châu is a mountainous district in Sơn La Province, approximately 200 kilometers west of Hanoi. Traveling to Mộc Châu is a delightful experience in any season, each offering its own unique charm to entice tourists.
When October arrives, it heralds the season of pristine white mustard flowers blanketing the Mộc Châu landscape. It's a time when the weather takes on a slight winter chill, and the golden hues of sunlight can no longer tint the fields, replaced instead by a gentle, hazy mist. During this period, the white mustard fields timidly begin to bloom their first blossoms, signaling the arrival of a new season. These flowers, far from exuding the grandeur of spring cherry blossoms or the radiant beauty of morning glories in the early sun, possess a simple and unassuming elegance that never fails to touch the heart.
Not only renowned for the purity of its white mustard flowers, Mộc Châu also captivates travelers with its endless rolling tea hills that stretch to the horizon. The heart-shaped tea hills, the sinuous rows of vibrant green tea plants, together compose a picture-perfect scenery that leaves couples in love feeling truly blissful as they gaze upon this stunning landscape.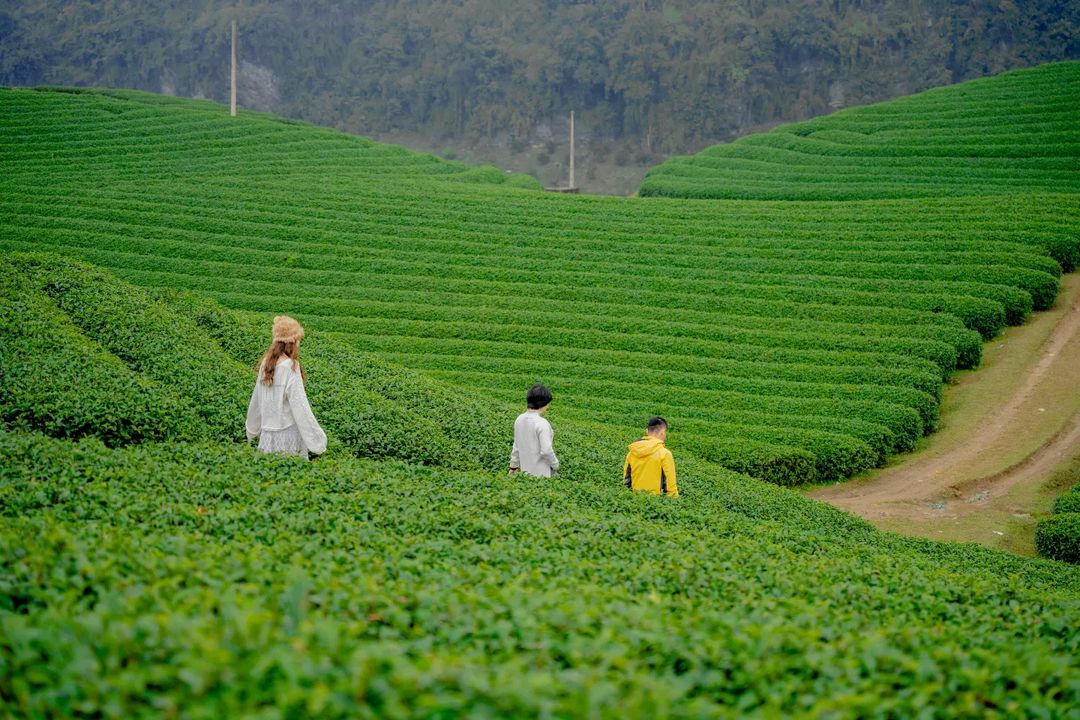 In October, it's also the time when the ripe rice fields are ready for the autumn harvest. Looking down from above, you'll witness a vast expanse of terraced fields adorned in the vibrant golden hues of the ripened rice, creating a breathtaking vista that stretches as far as the eye can see.
A magnificent natural landscape, a wholly unique perspective—Mộc Châu in October leaves everyone's footsteps hesitant to depart, as if not wanting to leave this place even for a moment.
Mai Châu – Hòa Bình
Mai Châu is a district nestled in the northwest of Hòa Bình Province, situated approximately 140 kilometers from Hanoi and 60 kilometers from the city center of Hòa Bình.
In October, Mai Châu adorns itself with the lush greenery of its mountains and forests, offering a rustic and unpretentious charm where low-lying rice fields shimmer in the backdrop of stilted houses. Here, simplicity reigns, and the local people from the highlands embody an unassuming and genuine spirit. This is indeed the most picturesque time of year in Mai Châu, where the natural beauty reaches its pinnacle.
The town of Mai Châu nestles in a valley enveloped by lush green mountains, offering a serene natural landscape, refreshing and cool air. Therefore, for those embarking on a trip to Mai Châu in October, you can explore the area by bicycle or on foot through the villages, visit caves, and admire the ripening rice fields. Here, you can live, interact, and savor traditional Thai cuisine right in their homes. You'll also have the opportunity to immerse yourself in the real-life experience to gain a deeper understanding of their unique way of life and culture during your October visit to Mai Châu.
Like everywhere else, this is also the time when the rice fields here begin their autumn harvest. The breathtaking natural scenery, fresh and invigorating air, coupled with the golden hues of ripe rice, provide the most relaxing and comfortable feeling for travelers visiting Mai Châu during this time.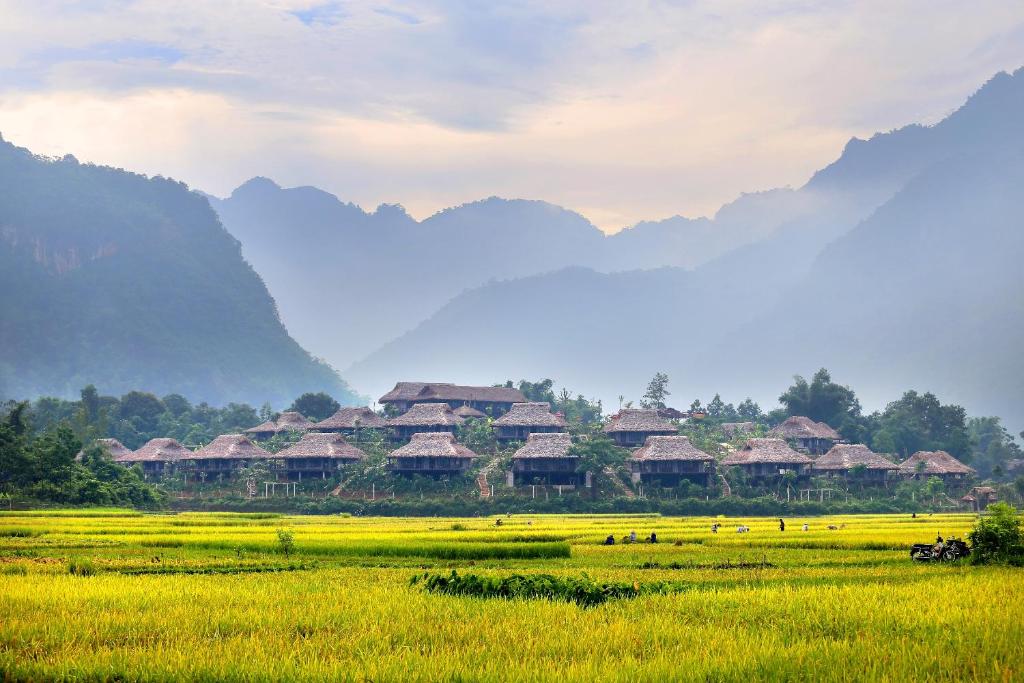 Mù Cang Chải – Yên Bái
Mù Cang Chải is becoming an increasingly popular and familiar destination among travelers nationwide. The month of October marks the beginning of the autumn harvest season for rice fields across the country, and Mù Cang Chải is no exception, boasting thousands of hectares of terraced fields. Therefore, the enchanting golden-hued ripe terraced rice fields stand out as the primary attraction that draws travelers to this destination during this time.
The entire district of Mù Cang Chải currently boasts 2,200 hectares of terraced fields, with 500 hectares located in La Pán Tẩn, Chế Cu Nha, and Dế Xu Phình communes, which have been officially recognized by the Ministry of Culture, Sports, and Tourism as one of the most unique natural attractions in our country. This recognition underscores the immense allure of the terraced fields in this area, which continue to captivate tourists to an extraordinary degree. The magic is further enhanced when the golden-hued fields combine with the early morning rays of sunlight, creating an exceptionally romantic and picturesque scene.
Furthermore, in recent years, Mù Cang Chải has introduced the exhilarating sport of paragliding, which has gained popularity among tourists. Thanks to this, you can now enjoy a truly unique perspective of the terraced fields, adorned in golden rice, from high above, making your experience even more fascinating and memorable.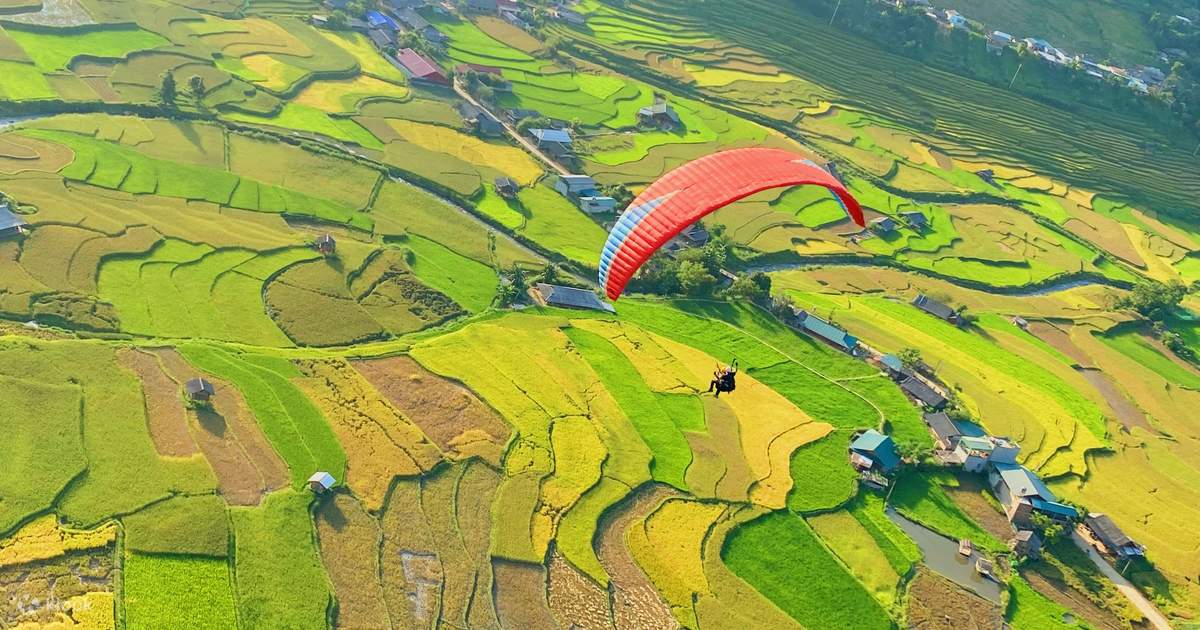 October – the season of autumn, the most beautiful time of the year. It's a time to immerse yourself in the natural beauty of Northern Vietnam. Each season in the North offers unique experiences, but it would be a shame not to experience the autumn season, even the Hanoi autumn. The atmosphere is sure to bring relaxation and a sense of meaningful, colorful life. Traveling is not only about exploration but also a way to rediscover your own life and set new plans. If you're a young enthusiast of motorbike adventures or seeking excitement, don't hesitate to visit us at AZ MOTORBIKES, where you can trust that we provide high-quality bikes. Travel your way, so you have no regrets.