Northern Vietnam, boasting captivating destinations, breathtaking landscapes, majestic mountains, and winding ascents, offers ideal bike routes that consistently lure adventurous riders. The allure of these pathways ignites a burning desire in riders to conquer them at least once. Particularly, Northern Vietnam, with its fascinating locales, stunning vistas, towering mountains, and serpentine trails, poses an irresistible challenge for passionate travelers eager to embark on a journey and immerse in nature's splendor. Especially during the flooding seasons or when the paddy fields turn golden, free-spirited souls seeking exhilarating experiences flock to these chill biking routes up North. Join AZ MOTORBIKES in exploring the top 8 must-ride bike trails in Northern Vietnam.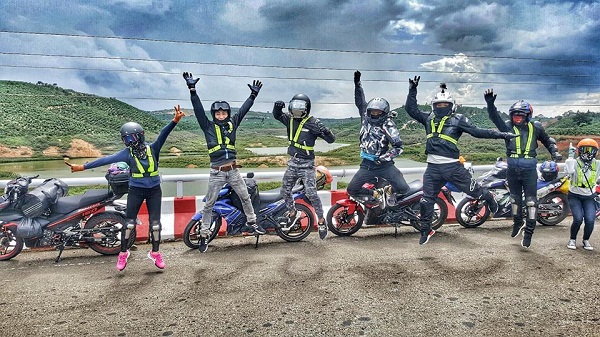 The Cloud-Hunting Route from Hanoi to Ta Xua – Bac Yen
Detailed Route: Hanoi – Son Tay – Trung Ha Bridge – Thu Cuc – Thu Cuc Junction (Highway 32) – turn left to Phu Yen – Bac Yen (Highway 37) – Ta Xua – Bac Yen – Hanoi.
Best Time to Visit: Ta Xua is coolest during the summer with temperatures ranging from 20-25°C. The best season for cloud hunting is from November to April.
This bike journey to chase the clouds is captivating and stands as one of the most beautiful and challenging routes for riders. Treacherous slopes, vast flower hills, or valleys immersed in a sea of clouds… All combine to make a biking path that one can never tire of.
On this route, you'll conquer the Kem slope, Cun slope, and the winding Thung Khe pass. Following is the Moc Chau region with its plum gardens, pine forest of Ban Ang, and fresh green tea hills amidst floating clouds. Don't miss the opportunity to climb Pha Luong – the rooftop of the Moc Chau plateau at a challenging altitude of 2000m. Ta Xua welcomes you with its "Dinosaur Backbone" and a sky filled with rolling clouds. The final stop, Bac Yen, will treat you to the rooftop of Hang Dong, higher than 2000m, always enveloped in thick mist, giving you a genuine sense of what "cloud hunting" truly feels like.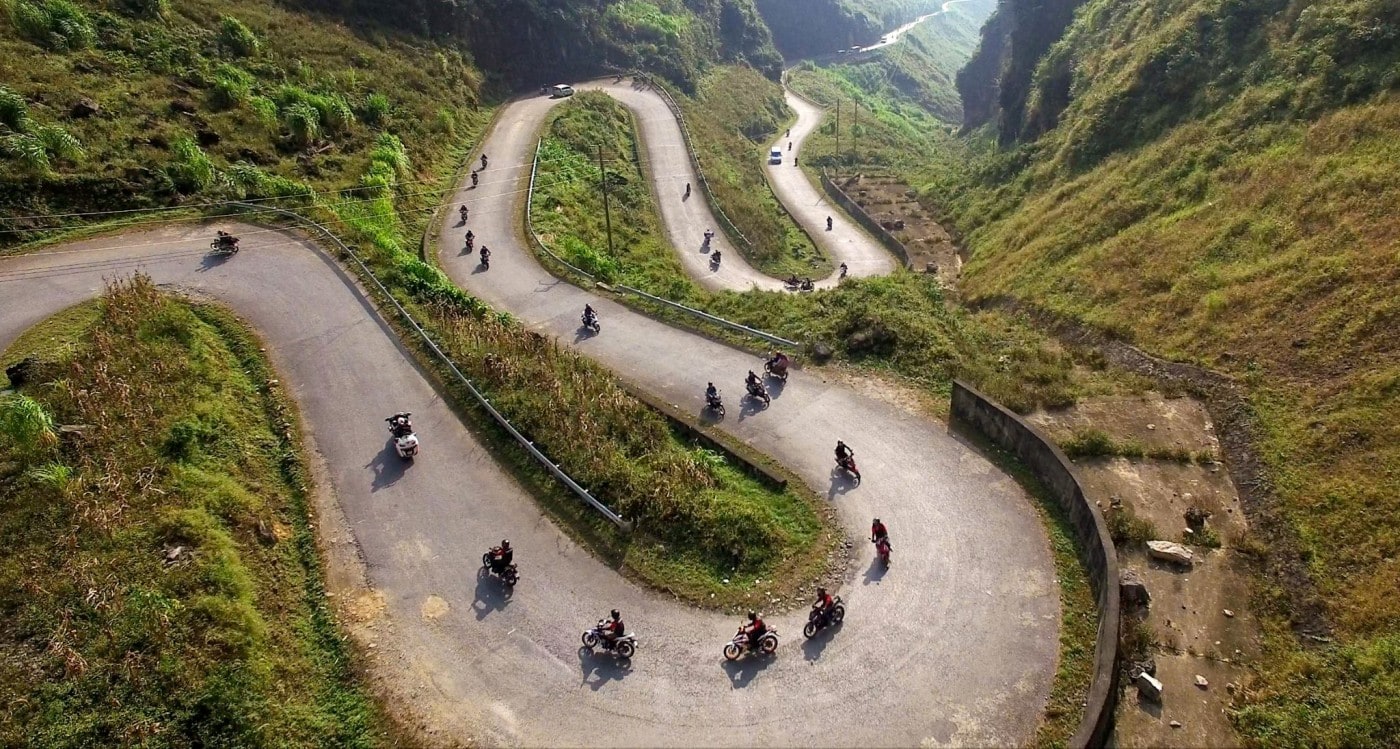 The Route from Hanoi to Nghia Lo – Mu Cang Chai
Detailed Route: Hanoi – Son Tay – Thanh Son – Thu Cuc – Khe Pass – Nghia Lo – Tu Le – Khau Pha Pass – Mu Cang Chai.
Best Time to Visit: While every season showcases its beauty, the most enchanting periods are during the ripe rice season in September and October, and the water pouring season in May and June.
Among the top bike routes in Northern Vietnam, the path from Hanoi to Nghia Lo – Mu Cang Chai offers the most adventurous feels:
• Conquer the grand mountain passes, including the treacherous 40km Khau Pha Pass on Highway 32, one of the four most spectacular passes in Vietnam. Ensure your grip is firm as you navigate and bask in the beauty of nature.
• The journey from Nghia Lo through Khau Pha Pass to Mu Cang Chai will take you through renowned golden rice-viewing spots such as La Pan Tan, Che Cu Nha, Tu Le, Lim Mong, Khau Pha, Thai village, and horse-shaped hills. Here, the shimmering gold of terraced fields overflows with the intoxicating aroma of the heavenly grains.
• A trip to Mu Cang Chai wouldn't be complete without paragliding. The most famous take-off points are at Khau Pha Pass and La Pan Tan village. Paragliding offers an adventurous experience for those who are in love with the sky and wish to sail amongst the winds and clouds.
Hanoi – Mu Cang Chai – Muong La Biking Router 
Detailed Route: Hanoi – Nghia Lo – Khau Pha Pass – Mu Cang Chai – Che Tao – Hua Trai – Muong La – Son La Hydroelectric Plant – Son La – Moc Chau – Hanoi.
Best Time to Visit: The most captivating seasons are during the water pouring period in May and June; the ripe rice season in September and October; and the red leaf hunting season in November. Avoid traveling during heavy rains as the roads can become slippery, prone to landslides, and can be isolated.
Che Tao – Muong La is renowned among the biking community for its previously extreme off-road terrains. Although the roads have become less challenging over time, this remains one of the "Four Daunting Destinations" of the Northwestern region in Yen Bai, and is still a route challenging enough to test the mettle of truly passionate and courageous riders willing to complete the journey.
This route takes you through Nghia Lo, reaching Tu Le, conquering the Khau Pha Pass, and paragliding over the Cao Pha fields. Once in Mu Cang Chai, you'll be greeted by a paradise of terraced rice fields. The approximately 70km stretch connecting Mu Cang Chai to Muong La, passing through Che Tao, is characterized by narrow dirt roads riddled with numerous tight and perilous bends.
The exhilarating sensation of overcoming such a muddy and difficult route, only to be rewarded with mesmerizing views of cascading terraced rice fields and verdant forests flanking either side, amidst crisp, serene air, is an unforgettable experience.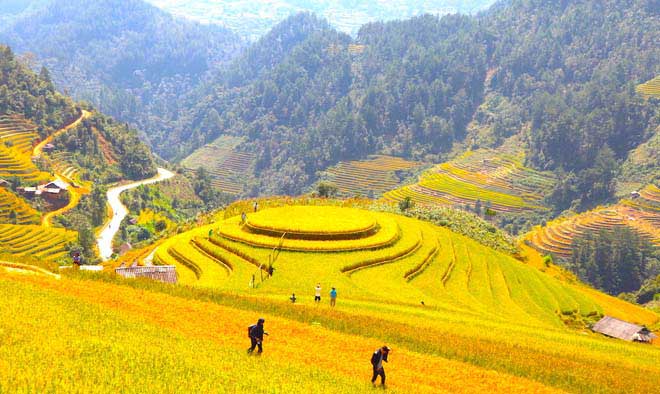 Hanoi – Dien Bien Phu – Far West of A Pa Chai Biking Route
Detailed Route: Hanoi – Moc Chau – Lai Chau – Thuan Chau – Tuan Giao – Dien Bien Phu – Muong Nhe – Chung Chai – Border Post 405 Leng Su Sin – Ta Kho Khu – Border Post 317 A Pa Chai.
Best Time to Visit: A Pa Chai is most stunning at the end of August and the beginning of September when the rice turns golden and from January to early February during rice planting season.
A Pa Chai, situated in Sin Thau commune, Muong Nhe district, Dien Bien province, stands at the tri-border point of Vietnam, Laos, and China. This landmark has gained fame as it represents the westernmost point of the nation, a dream destination for many adventurous bikers. Besides conquering the majestic Pha Din Pass – one of the four renowned passes in the Northwestern region, this journey offers a treat for those interested in the nation's history, giving them an opportunity to explore the D'Cat tunnel and other historic sites from the monumental Dien Bien Phu victory.
Without unwavering determination and a spirit to conquer, one might be easily overwhelmed by the chilling cold of the Northwestern mountains and the fatigue after hours of strenuous mountain trekking. However, all these challenges are compensated by the pristine natural beauty and the triumphant moment when one touches the nation's unnumbered landmark pillar.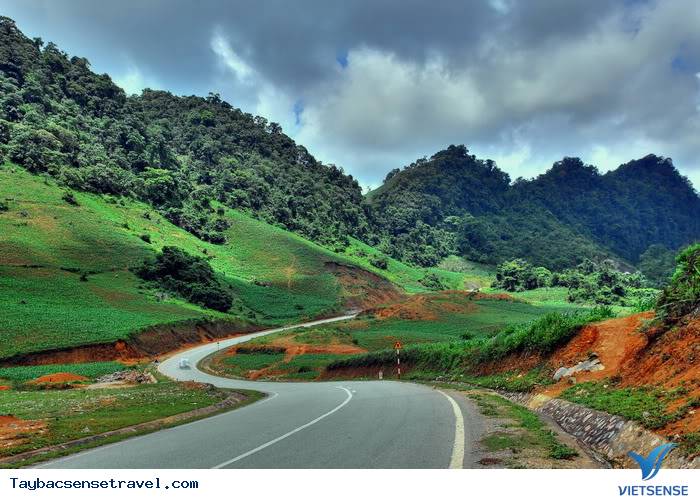 Hanoi – Hoang Su Phi Biking Route
Detailed Route: Hanoi – Ha Giang City – Bac Quang – Tan Quang – Hoang Su Phi – Xin Man – Coc Pai – Lao Cai – Hanoi.
Best Time to Visit: Hoang Su Phi is at its most beautiful during two seasons: the water-pouring season (May) and the ripe rice season (September-October).
Located within the territory of six communes: Ban Luoc, San Sa Ho, Ban Phung, Ho Thau, Nam Ty, and Thong Nguyen in Ha Giang province, the journey to Hoang Su Phi is challenging and requires biking skills suitable for mountainous and pass terrains. This route is a popular choice among bikers because it encompasses numerous renowned destinations for exploration and adventure.
You can touch the peak of Fansipan – the "Roof of Indochina," conquer the king of the Northwestern passes – O Quy Ho Pass, delve into the majestic beauty of the Hoang Lien Valley, Bac Waterfall, the Gate to Heaven amidst clouds, or experience the ethereal beauty of Sapa.
The ultimate destination, Hoang Su Phi, will not disappoint. It rewards bikers with mesmerizing terraced rice fields shining in the sun, the quiet and serene traditional brown-roofed houses, and the thrilling experience of crossing forests and streams, all showcasing the grandeur of the Northeastern highlands.
Hanoi – Ha Giang – Hanoi Biking Route
Detailed Route: Hanoi – Tuyen Quang – Quan Ba – Yen Minh – King of H'Mong's Palace – Lung Cu – Dong Van – Quan Ba – Ha Giang – Hanoi.
Best Time to Visit: Ha Giang is beautiful throughout the year. Anytime is suitable, but the most captivating periods are the water-pouring season in June, the vast golden rice fields in September, and the buckwheat flower (Tam giác mạch) season around October-November.
Situated in Northeastern Vietnam, embarking on a journey to Ha Giang means heading to the northernmost tip of the country. The region is renowned for its spectacular mountain passes and serene landscapes that seem to harmoniously blend into the majestic nature.
The Dong Van Karst Plateau in Ha Giang is home to numerous cultural heritages. Lung Cu, considered the "proud forehead of the country", marks the sacred northernmost point of Vietnam. The area also has quaint, century-old highland towns.
By biking across the North-West and North-East, travelers get the chance to:
Explore and conquer the Lung Cu Flagpole.
Immerse in the tranquility of the Yen Minh pine forest.
Ride on the spectacular Ma Pi Leng Pass, known as the "pre-eminent pass" of the Northeast.
Admire the crystal-clear Nho Que River.
Enjoy the blooming landscapes dominated by buckwheat flowers.
Such a journey to Ha Giang encapsulates the very essence of the rugged beauty of Vietnam's northern territories.
Hanoi – Tam Dao Biking Route
Detailed Route: Hanoi – Thang Long Bridge – Vinh Yen – Tam Dao – Hanoi.
Note: There's a stretch of mountainous road about 12km with numerous hairpin bends and a 10% gradient. Ensure that you maintain a safe speed, navigate the curves properly, and stay alert for oncoming traffic.
Best Time to Visit: Situated at an altitude of 900m above sea level, Tam Dao is characterized by its fresh and cool climate, often likened to that of Da Lat or Sapa. The average temperature ranges between 18-25°C. The ideal time to visit is during the summer months from May to September.
Only about 80km from Hanoi, the Hanoi – Tam Dao route is considered a relatively easy biking journey suitable for most travelers. Given its moderate distance, this path is also an excellent choice for biking newbies to familiarize themselves with the experience before taking on longer and more challenging routes.
Visiting Tam Dao on a weekend offers a plethora of unique experiences amidst nature:
Camping out and enjoying the cool evening weather.
Visiting the stone church of Tam Dao, an architectural wonder with a Gothic design that stands silent yet magnificent.
Observing the panoramic view of Tam Dao shrouded in mist from the 'Sky Gate'.
Venturing to explore the Bac waterfall.
This route to Tam Dao provides a refreshing escape from city life and allows travelers to immerse themselves in the tranquil beauty of the mountains.
Cung đường Cao – Bắc – Lạng (The Cao – Bac – Lang Route)
Detailed Route: Hà Nội – Bac Kan – Ba Be Lake – Cao Bang – Pac Bo – Ban Gioc Waterfall – Lang Son – Tan Thanh Border Gate – Hà Nội.
Best Time to Visit:
Cao Bang: The most scenic time to visit Cao Bang is between August and September when the Ban Gioc waterfall is filled with crystal-clear water. November and December are also captivating months when the region is adorned with blooming Tam giac mach (triangle oat) and Wild Sunflowers (Dã Quỳ). Additionally, a unique white variant of Tam giac mach flowers can be observed in Cao Bang during April-May.
Bac Kan: Summer is the best time to explore Ba Be Lake, one of the most beautiful freshwater lakes in the world.
Highlights of the Journey:
Bac Kan: Discover the enchanting Ba Be Lake, one of the 16 most beautiful freshwater lakes in the world. Explore the ever-water-filled Nang Tien Cave, Puong Cave, ASEAN Heritage Garden – Ba Be National Park, Dau Dang Waterfall, and Pac Ngoi village.
Cao Bang: The prime attraction here is the Ban Gioc Waterfall, the largest natural waterfall in Southeast Asia, and also ranks fourth globally among the beautiful waterfalls located on international borders. Revel in the grandeur of the cascading waters and enjoy the panoramic views. Another must-visit spot is the Pac Bo historical site, where you can immerse yourself in the history and savor the serene beauty of the Viet Bac mountains. Additional attractions include the Ngom Ngao Cave and Thang Hen Lake.
Lang Son: Pay a visit to Mau Son, Nhi Thanh Cave, Phai Ve Flagpole, Mac Dynasty Citadel, and the Dong Dang Goddess Temple. The journey is incomplete without exploring the Tan Thanh Border Gate.
The Cao – Bac – Lang route, covering Cao Bang, Bac Kan, and Lang Son provinces, offers a comprehensive experience of Northern Vietnam's natural beauty, cultural richness, and historical significance.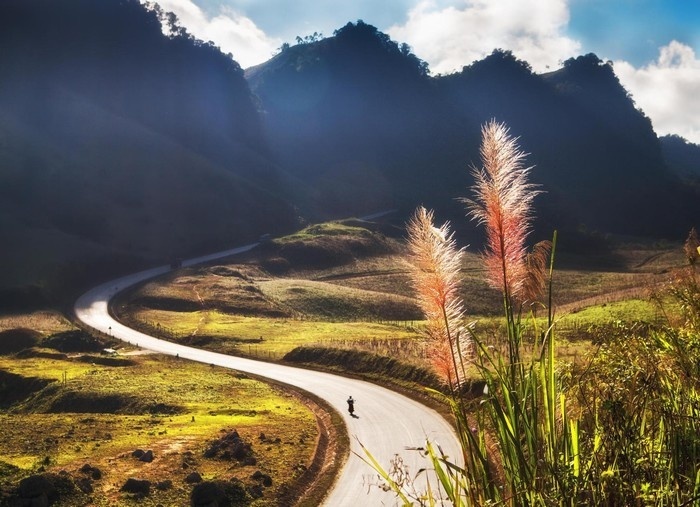 Northern Vietnam, with its majestic mountain peaks, winding passes, and unique natural landscapes, is always an ideal destination for those passionate about motorbiking. Each route offers memorable experiences that fill one's heart with emotions and excitement.
For a perfect trip, you need to choose a suitable bike. If you don't already own a bike or want to try a new model, AZ MOTORBIKES is your top choice. Especially for those traveling from afar, renting from AZ MOTORBIKES can save both time and money. Imagine yourself riding your bike, gliding over the mountains, navigating the passes, and immersing in the magnificent natural beauty of the North.
AZ MOTORBIKES offers a variety of popular and reliable models, from sports bikes, off-road bikes to conventional ones. Whether you're an experienced rider or just starting your biking journey, you can find a bike that matches your preferences and riding skills.
Furthermore, when renting from AZ MOTORBIKES, you'll also receive valuable advice on the most popular and beautiful routes in the North. The consultancy team at AZ MOTORBIKES not only assists you in selecting the right bike but also shares experience, traffic precautions, and must-visit destinations.
Conclude your Northern motorbiking adventure by visiting AZ MOTORBIKES, picking a bike of your liking, and exploring legendary roads, paths that bear historical and unique cultural imprints of this region. Every trip, every route, will become a cherished memory, a beautiful chapter in your life's memoir.