Nestled high in the emerald-hued mountains of northern Vietnam, Sapa stands as an enchanting haven that captivates travelers with its breathtaking landscapes, vibrant culture, and intriguing history. This picturesque destination is a testament to the splendor of nature and the resilience of the local communities that call it home. Sapa is renowned for its iconic terraced rice fields that sprawl across the hillsides, creating a mesmerizing mosaic of greens that change with the seasons. The town's elevation contributes to its cool climate, resulting in a serene atmosphere and vistas that seem to stretch into eternity. Beyond its natural allure, Sapa boasts a rich cultural tapestry woven by the various ethnic hill tribes that inhabit the region. Among these are the Hmong, Dao, Tay, and Giay tribes, each with their distinctive languages, customs, and traditional attire. Engaging with these tribes offers a rare opportunity to gain insight into their ways of life, learn about age-old crafts, and partake in their unique festivals.
Sapa's central market buzzes with vibrant energy as locals from different ethnic groups gather to trade goods and crafts. This market is a cultural crossroads, showcasing an array of traditional clothing, handwoven textiles, intricate jewelry, and local produce. The atmosphere is lively and offers visitors a chance to immerse themselves in the colorful and dynamic world of Sapa's indigenous cultures. For intrepid explorers, Sapa serves as a base for exhilarating treks into the surrounding mountains. The trek to the summit of Fansipan, known as the "Roof of Indochina," is a rewarding challenge that leads through dense forests, cascading waterfalls, and charming hill tribe villages.
The panoramic views from the top are a well-deserved reward for the journey. Sapa's allure is not limited to the daytime. As night falls, the town takes on a different charm, with the evening mist lending an almost mystical ambiance to the surroundings. The cozy local restaurants offer hearty mountain fare, allowing visitors to savor traditional dishes while soaking in the town's unique atmosphere. In essence, Sapa is a treasure trove of natural beauty, cultural diversity, and adventure. It weaves together the harmonious blend of serene landscapes, captivating traditions, and awe-inspiring experiences, making it a destination that lingers in the hearts and memories of all who have the privilege to explore its wonders.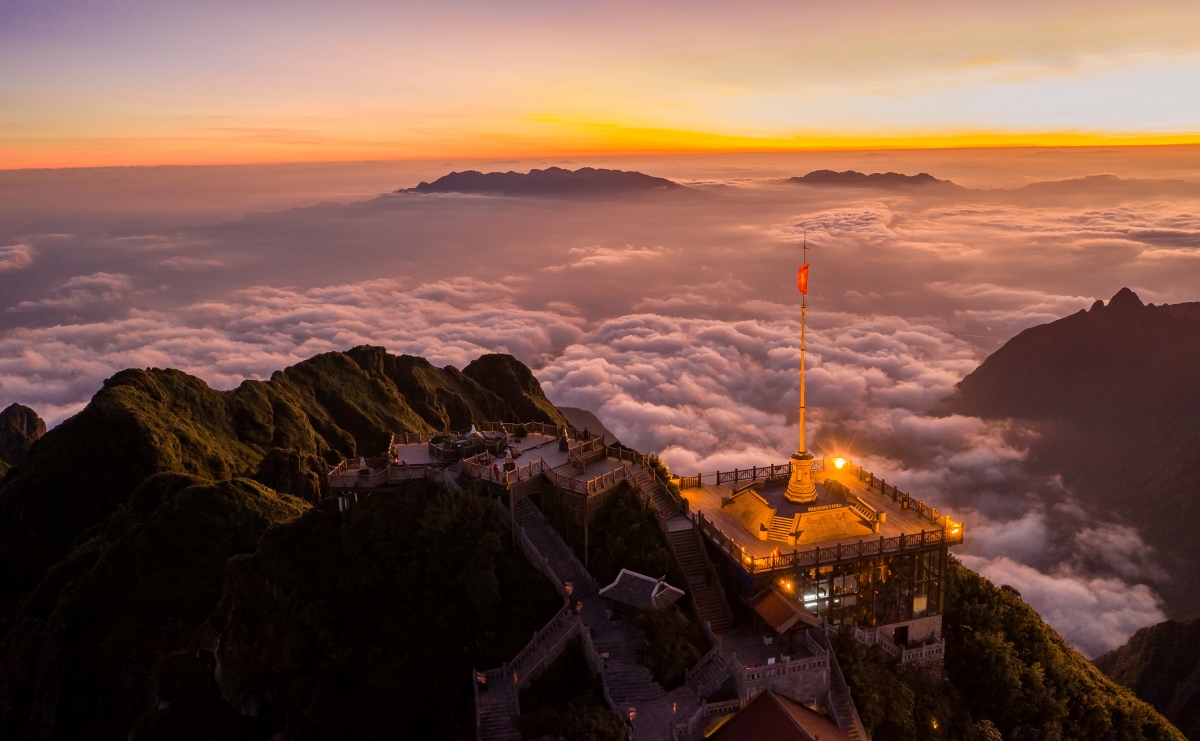 INTRODUCTION TO AZ MOTORBIKES TOUR TO SAPA
The 3-day, 2-night Sapa tour offered by AZ MOTORBIKES is a thrilling journey through the breathtaking landscapes and vibrant cultures of this iconic destination. Embarking on this adventure on two wheels adds an extra layer of excitement and connection to the surroundings.
Riders will traverse winding roads that unveil stunning vistas of terraced rice fields, misty valleys, and traditional hill tribe villages. Our experienced guides lead the way, ensuring both safety and an authentic experience. The tour is thoughtfully designed to immerse participants in the rich cultural tapestry of Sapa. Stops at bustling local markets and interactions with ethnic communities provide a deep understanding of their customs, crafts, and ways of life. Evenings are spent in cozy accommodations, allowing riders to rest and recharge for the next day's exploration. The highlight of the tour is the ascent of Fansipan, the highest peak in Indochina. The challenging but rewarding ride to the summit is a true test of skill and determination, with panoramic views as the ultimate prize.
Throughout the journey, participants are treated to the local cuisine, savoring traditional flavors that reflect the region's unique blend of cultures. The camaraderie among fellow riders and the sense of accomplishment after each day's adventure create lasting memories. AZ MOTORBIKES' Sapa tour promises an unforgettable blend of natural beauty, cultural discovery, and adrenaline-pumping excitement, all while riding through the stunning landscapes of Sapa on two wheels.
WHAT TO EXPECT
Embarking on an adventurous journey, biking through the heart of hill tribe territories, you'll have the privilege to immerse yourself in the extraordinary beauty of the landscape. While traversing these trails, you'll gain intimate insights into the daily routines and traditions of the diverse minority communities nestled in the rugged mountains of Vietnam

The experience is not just about the ride; it's a chance to delve into the fabric of local existence, discovering the essence of their lives, their crafts, and the stories that shape their world. As you pedal along, each twist and turn unveils not just breathtaking vistas, but also the intricate tapestry of human resilience and connection

And the pinnacle of this remarkable journey? Conquering the towering summit of Fansipan, which reaches a staggering 3,143 meters, using a cable car. The ascent is a test of endurance, a testament to your determination, and rewards you with a sweeping panoramic view that stretches to the horizon, reminding you of the boundless spirit of exploration.
TOUR ITINERARY
Day 1: Hanoi to Sapa – Exploring Y Linh Ho and Lao Chai, Ta Van ( Breakfast)
The journey begins at 7:30 am as you pick up your bike from AZ MOTORBIKES. Your route unfolds along the road to Lao Cai, spanning a distance of 245km and taking approximately 5.5 hours of travel. As you cruise, be enchanted by the captivating panoramas of the region, painting a vivid tapestry of beauty along the way.
Around 12:30 pm, you arrive in Sapa. After a leisurely lunch at a local restaurant, it's time to check in to your hotel and unwind.
Come afternoon, embark on a brief ride to Y Linh Ho village, where your trek commences. Wander amidst the enchanting rice terraces and meander along the serene Muong Hoa stream, all the way to the captivating Black H'mong village of Lao Chai. Here, you'll witness the grandeur of the Hoang Lien Son Mountain unfolding before your eyes. The Black H'mong, a prominent minority group in Sapa, take immense pride in their rich culture, steadfastly holding onto their time-honored traditions and unique way of life. Their traditional indigo blue attire and language reflect their distinct identity. As the H'mong community transitions from nomadic to settled living, remnants of the past come alive – rudimentary houses and stone walls echo tales of history.
Your exploration continues to Ta Van village, a home for the Zay people. Comprising around 38,000 individuals, the Zay tribe thrives primarily in the Northwest Vietnam mountains
. As the sun sets, around 5:30 pm, return to your hotel for a relaxing evening
Day 2: Sapa Discovery – Silver Waterfall, Heaven Gate, Fansipan Summit ( Breakfast, Lunch)
Begin your day with a hearty breakfast at the hotel, preparing for an exciting Sapa adventure. As you ascend, the drive unveils the most breathtaking views of Fansipan Mount. Just a kilometer outside town, expansive rose flower farms and chayote vegetation on bamboo frames paint a mesmerizing scene.
Pause at the awe-inspiring Silver Waterfall, then take a serene walk along its cascades, enveloped by the spectacular surrounding scenery. Nearby, a visit to a fish farm adds a touch of local charm.
Continuing, the journey leads to Heaven Gate and Tram Ton Pass. Standing at 2047m above sea level, this pass is Vietnam's highest. Take a leisurely half-hour walk here to soak in the beauty of both sides of the Hoang Lien Son mountain range, offering breathtaking views of Fansipan Mountain.
Lunch awaits at a local restaurant before a brief transfer to the O Quy Ho cable car station, around 15 minutes away. A 20-minute cable car ride takes you to the next station at 3,000m above sea level. From the cabin, indulge in the view of Sin Chai valley, Fansipan peak, and Hoang Lien National Park. Ascend stone steps for 40 minutes from the station to the 3,143m summit of Fansipan. Celebrate your victory perched high above, embraced by the stunning mountainous landscape.
Day 3: Sapa to Hanoi – Exploring Cat Cat Village (

Breakfast, Lunch)
Embrace the morning serenity of Sapa as you awaken to the crisp, refreshing air. Fuel up with a delightful breakfast at the hotel, setting the tone for your day ahead.

Embarking on a picturesque descent, you'll venture towards Cat Cat village, a haven of the Black H'mong ethnic community. Nestled at the base of Fansipan Peak, this village boasts enchanting vistas and a unique ambiance. As you meander along, allow the captivating landscape to unfold before you, offering moments of serenity and awe. Arriving at Cat Cat village, a graceful trek takes you to the valley's heart, where a stunning waterfall stands as a testament to nature's grandeur. Here, history intertwines with the present, with the remnants of a French Hydraulic Power Station lending an intriguing touch. Pause for photographs at the bridge and waterfall, immersing yourself in their beauty.
The journey circles back to Sapa town, where you'll complete the check-out process before indulging in a leisurely lunch at a local restaurant. The afternoon is yours to explore or partake in a bout of shopping, soaking in the town's charm.
Around 3:00 pm, your return journey to Hanoi commences. The tour concludes in Hanoi around 8:30 pm, marking the end of your captivating Sapa expedition.
TOUR PRICE
The following tour prices apply to each specific type of vehicle:
Vision / Air Blade / Honda Wave: $100 per day per person

NVX / Winner X: $120 per day per person

Honda XR: $170 per day per person
Tour inclusive
Accommodation: Double/Twin sharing (or Single room on request )

Bike Rental and Petrol for 3 days

Meals as indicated: Breakfast, Lunch

English-speaking tour guide,

All entrance and sightseeing fees

Cable car to Fansipan peak

Mineral water
Tour exclusive
Drinks and other meals do not indicate in the program

Personal expenses (laundry, telephone, shopping…)

Tips/Gratuities

Single Supplement
CANCELLATION
This tour does not incur any additional cancellation fees. You have the option to cancel the tour up to 7 days prior to departure in order to avoid the full payment, but please note that the initial deposit is non-refundable. Unfortunately, cancellations made within 4 days of departure are not eligible for a refund.
As your unforgettable Sapa journey with AZ MOTORBIKES comes to a close, we want to express our sincere gratitude for choosing us as your travel companion. It's been our privilege to guide you through the enchanting landscapes, vibrant cultures, and thrilling adventures that define this remarkable destination.
We hope this experience has ignited a deeper connection to Sapa's natural beauty and rich heritage, leaving you with cherished memories that will linger for years to come. Our commitment to providing you with exceptional service, top-notch equipment, and insightful guidance remains unwavering.As you leave behind the misty mountains and the warmth of the local communities, remember that Sapa's allure will always beckon you back. Whether it's the terraced fields, the laughter of hill tribe children, or the exhilarating rides, the spirit of Sapa will remain in your heart.
Thank you for entrusting us with your journey. From the entire AZ MOTORBIKES team, we wish you safe travels and endless adventures on your path ahead.