Nestled in the heart of Northern Vietnam, Cuc Phuong National Park stands as a testament to the country's rich biodiversity and natural beauty. Established in 1962, it holds the distinction of being Vietnam's first national park. Spanning over 25,000 hectares, this park boasts a diverse range of ecosystems, from lush rainforests to limestone karst landscapes.
Cuc Phuong is a sanctuary for countless plant and animal species, many of which are endemic to the region. Its ancient trees and rare flora provide a haven for botany enthusiasts, while its vibrant avian population beckons birdwatchers from around the world. Trekking through its verdant trails, visitors may encounter langurs, macaques, and even the elusive pangolin.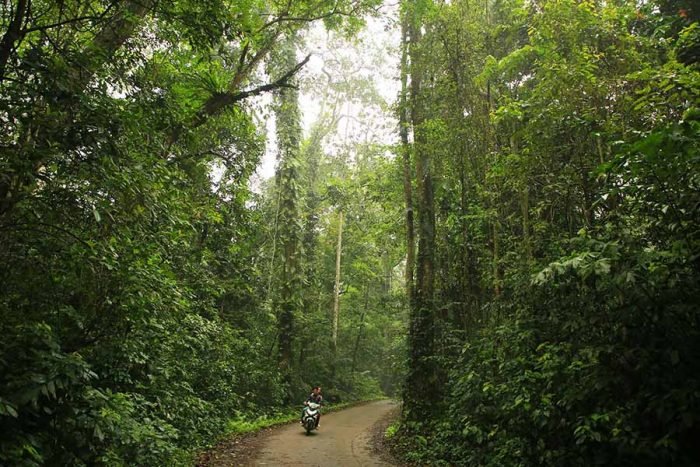 Beyond its remarkable biodiversity, Cuc Phuong National Park also holds cultural significance, with evidence of ancient human habitation dating back thousands of years. Exploring its depths, one can stumble upon prehistoric cave paintings and ancient tools, offering a window into Vietnam's past.
As you wander through its trails, the park's serene ambiance and the symphony of nature create a profound connection to the Earth. Cuc Phuong National Park presents an opportunity to immerse oneself in both the tranquility of untouched landscapes and the ecological marvels that make it a cornerstone of Vietnam's natural heritage.
TOUR ITINERARY DURATION: 9-10 hours.
 EXPERIENCE HIGHLIGHTS
Explore the lush rainforest of Cuc Phuong National Park.

Visit the Endangered Primate Rescue Central.

Hike through the jungle, discovering its natural beauty, dense grass valleys, ancient trees, and diverse flora and fauna.

Immerse yourself in the wonders of Cuc Phuong National Park.
If you're keen on an independent journey for an immersive experience, our vehicle rental services offer the perfect option. And of course, a dedicated guide will accompany you. Allow me to introduce what AZ MOTORBIKES brings to your 1-day trip at Cuc Phuong National Park.
AZ MOTORBIKES for Your 1-Day Cuc Phuong National Park Trip
Expertise and Convenience: With AZ MOTORBIKES, you access expertly maintained vehicles equipped for the Northwestern terrain. Our knowledgeable guides enhance your journey, providing insights and recommendations throughout.
Personalized Exploration: We believe in tailoring experiences. Our guides craft a day that aligns with your interests, ensuring you witness the essence of Cuc Phuong National Park in a manner that resonates with you.
Safety and Assurance: Safety is paramount. Our vehicles undergo rigorous maintenance, and our accompanying guides are trained to ensure your well-being throughout the journey.
Unforgettable Moments: From the moment you set off till you return, AZ MOTORBIKES promises a day filled with unforgettable moments. Capture the park's natural beauty, engage with the local culture, and immerse yourself in the Northwestern charm.
Seamless Arrangements: AZ MOTORBIKES streamlines the process, from vehicle rental to itinerary planning. This allows you to fully focus on embracing the adventure that awaits.
AZ MOTORBIKES is your partner in curating a remarkable 1-day journey through Cuc Phuong National Park. Experience the park's beauty, culture, and authenticity with us. Let your exploration of nature's wonders be elevated by our dedication to excellence.
ITINEARY
7:30 AM: Meet at AZ MOTORBIKES. Get ready for an exciting day ahead!
9:30 AM: Depart from Hanoi towards the southwest, accompanied by your knowledgeable guide. Enjoy the picturesque 2.5-hour drive to Cuc Phuong National Park.
12:00 PM: Arrive at the park and begin your exploration. Our guide, well-versed in the park's history and attractions, will accompany you throughout, providing insights and recommendations.
12:30 PM: Visit the Endangered Primate Rescue Centre, a non-profit organization dedicated to primate conservation. Learn about their efforts and the importance of protecting these endangered species.
1:00 PM: Continue deeper into the park and discover the "Cave of Early Man," where archaeological sites from prehistoric times await your exploration.
1:30 PM: Take a break and enjoy a delicious lunch at a traditional house-on-stilts within the park. Rest, refuel, and absorb the tranquil surroundings.
2:30 PM: Embark on a guided trek into the heart of Cuc Phuong National Park. Your guide will point out unique flora and fauna along the way, enriching your understanding of this ancient forest.
4:00 PM: Reach the magnificent ancient tree, an iconic highlight of the park. Immerse yourself in the serene beauty of the jungle while your guide shares captivating stories.
5:00 PM: Conclude the day with a visit to Mac Lake, nestled in the heart of the park. Allow the peaceful ambiance to wash over you as you soak in the natural splendor.
6:30 PM: Return to Hanoi and return the bike at AZ MOTORBIKES. Reflect on a day filled with unforgettable moments and authentic experiences.
TOUR PRICE
Honda Vision/ Honda Air Blade/ Honda Wave: $100 PER PERSON
Honda Winner X/ Yamaha NVX: $175 PER PERSON
Honda XR: $200 PER PERSON
Doesn't match your preferences? Reach out to us for tailoring this journey and obtaining the most favorable rate according to your travel dates and specific preferences.
Inclusions:
Knowledgeable English-speaking tour guide

Admission fees for all scheduled visits

Lunch at a local restaurant

Bottled water
Exclusions:
Beverages, tips, and personal expenditures

Travel insurance
Embarking on a self-guided adventure with AZ MOTORBIKES ensures you'll have a knowledgeable guide by your side throughout the journey. Our expertly maintained vehicles offer comfort and reliability, while our dedicated guide enhances your experience with insights, stories, and assistance. Embrace the Northwestern charm, culture, and beauty of Cuc Phuong National Park on this extraordinary self-guided day trip.The tour concludes at the tranquil Mac Lake, nestled within Cuc Phuong National Park. This serene oasis offers a chance to unwind and revel in the untouched beauty of nature. The vivid forest butterflies add a touch of color to the scene, epitomizing the essence of Cuc Phuong National Park.
Join us to explore extraordinary experiences with AZ MOTORBIKES. Our meticulously designed tours offer captivating journeys through Vietnam's natural and cultural wonders. Embark on roads of adventure and authentic destinations. Whether an enthusiastic rider or culture seeker, AZ MOTORBIKES has tailored tours for you. Excellence defines us – from premium vehicles to knowledgeable guides, each moment is meaningful. AZ MOTORBIKES is more than tours; we're your key to Vietnam's heart. Create enduring memories, uncover beauty, embrace cultures, and ignite your adventure. Your unforgettable experience awaits. Join us now.