What do you need for a day trip around Ha Noi
1. A reliable motorbike rental place in Ha Noi
Honda, Yamaha, SYM Attila. Engine size : from 110cc – 150cc.
AZ Motorbikes is providing reliable motorbikes for your few days trip around Hanoi, the bike was serviced in repriodical every single month ( oil change engine, brake, chain, etc) to make sure in all good conditions. You don't need to care about that stuff, cause that is our responsibility. Grab your helmet and go ahead to pick up your bike then enjoy your trip! 
This is our link shop, click on it to get more about the bike: Motorbike rental in hanoi
2. Itinerary:
After finishing choosing a motorbike, our guys at shop can help you to create an itinerary for how long you want to go. We will suggest to you what is the best time to go, what you have to visit there and also about food, activity, …
3. Money:
It's a very important thing to make your perfect trip, you can choose how much you want to spend for your trip, it depends on where you live, what you eat . There are many hotels, homestays and restaurants at the destination. And the price varies from cheap to expensive.
One more thing , in case you forgot your money, don't worry there are a lot of ATMs on the road so you can get money there. It all was shown on Google Maps so it was easy. 
Where can you go?
Ba Vi:
Located around 60km from Hanoi, it is easiest for you to get there by motorbike or bus, taxi, or private car.
What can you visit in Ba Vi: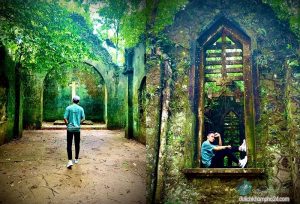 Sóc Sơn:
Soc Son is a suburban district of Hanoi.There are people who like to come to Hanoi to enjoy the noisy, busy atmosphere. And the bustle of the capital land. However, there are also people who come to Hanoi to enjoy the fresh air. With the peace of suburban lands. And if you are also one of them, why don't you come to Soc Son. This is a district located on the outskirts of Hanoi with many attractive tourist attractions. And take note of the famous tourist attractions in Soc Son below. For an enjoyable trip.
Ham Lon lake: For young people who like adventure and adventurous experiences, going through the forest and stream is an interesting suggestion not to be missed. However, the time will be longer than the trail and only suitable for the dry season. You should avoid going in the rainy, wet season because forest roads and slippery rocks are very dangerous. Once you have set foot on Ham Lon peak, visitors will feel fascinated by the attractive beauty. But forget all the fatigue. Standing from here looking down, you will feel overwhelmed by the space of mountains and forests. With thousands of purple sims, looking out into the distance is a peaceful lake with smaller villages looming. Create a sense of conquest more clearly than ever. Brings an indescribable sense of peace.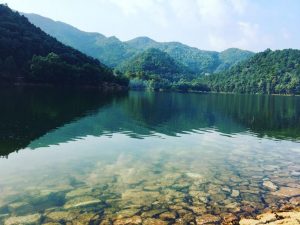 Viet Phu Thanh Chuong: Speaking of tourist attractions in Soc Son – Hanoi, it is impossible not to mention Viet Phu Thanh Chuong. This is a beautiful complex of royal architecture. And was introduced by the famous international newspaper The New York Times.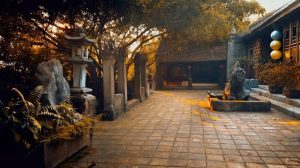 Unique architectural design The dark red brick road that follows the towers is like a mysterious labyrinth. Visitors can easily see a small lotus pond lurking among the covered groves. The lake is clear and blue, with the silhouettes of mischievous fish. With a blooming pink lotus blossoming with sweet fragrance In the distance is a clump of bamboo drooping under the lake.
Viet Phu Thanh Chuong gathers all related small architectures. Such as towers, chessboards, lotus ponds, theaters, galleries,… Visitors can freely admire the beauty of recreating a historical space. Expressed full of life but extremely ethereal, seductive.
There are some of our suggestion for your trip, we can help you to build it up at our offical. Don't hesitate to contact us cause it's free. Our team will support you 24/7. See you guys !!!