Pù Luông, nestled in Thanh Hóa Province, Vietnam, captivates with its pristine natural allure. Spanning a lush expanse of diverse landscapes, it mesmerizes visitors with emerald rice terraces, undulating hills, and ethnic villages. Pù Luông is a sanctuary of biodiversity, housing rare flora and fauna within its tranquil forests. Trekking trails lead explorers through this Eden, revealing cascading waterfalls and the enchanting Pu Luong Nature Reserve. The harmonious coexistence of local communities adds cultural richness, allowing travelers to engage in immersive experiences. Pù Luông is a haven for those seeking solace in nature's embrace and cultural immersion amid Thanh Hóa's verdant beauty.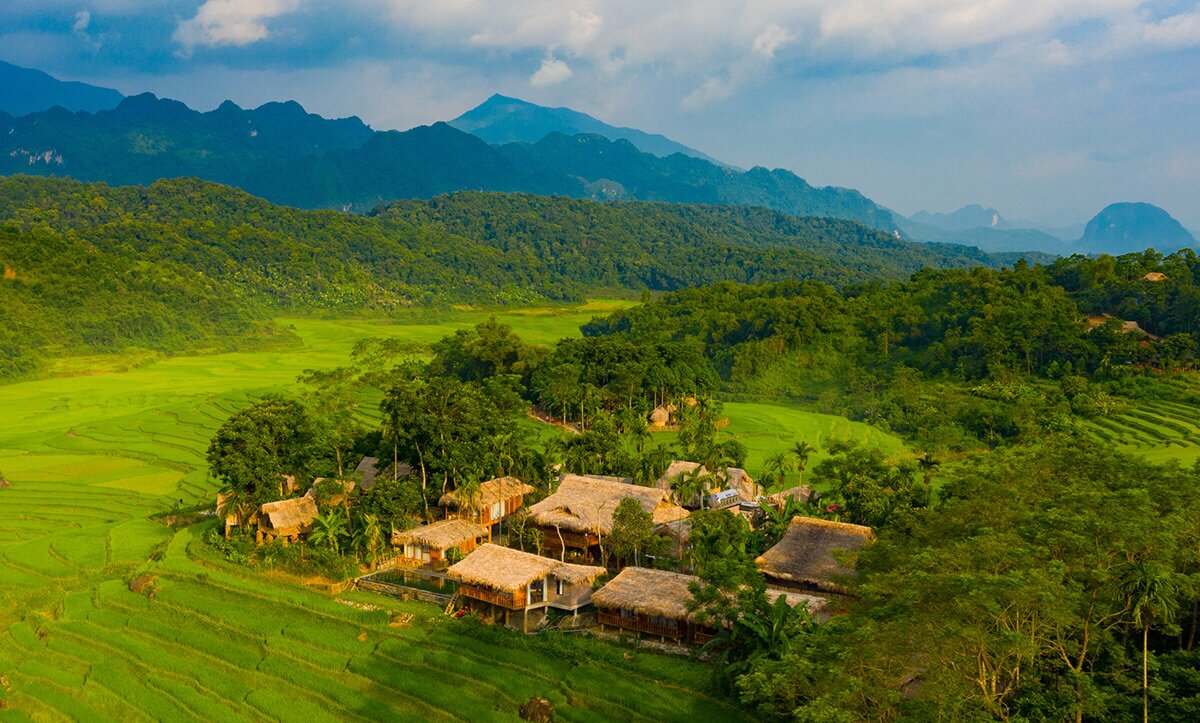 The Pù Luông Thanh Hóa tour by AZ MOTORBIKES is an extraordinary journey to explore the pristine and delicate beauty of the Pù Luông region. We offer a unique experience that combines an exciting motorbike adventure and an immersion into the local culture of indigenous villages.
This 3-day, 2-night trip will take you through mesmerizing routes, unveiling the fresh landscapes of Pù Luông – from terraced rice fields to lush green mountains. You'll feel the grandeur and tranquility of nature as you listen to the melodious sounds of flowing streams and the rustling of leaves in the wind. Moreover, AZ MOTORBIKES has crafted a journey with comprehensive services and immersive experiences within local villages. Our team of professional guides ensures your safety and a memorable experience. Let AZ MOTORBIKES be your companion on this voyage of discovery in Pù Luông Thanh Hóa, where you can savor the majestic beauty of nature and intimately engage with the local culture.
TOUR HIGHTLIGHTS
When visiting Pù Luông, you'll experience the following from the mentioned destinations:
Bản Kho Mường – Hang Dơi (Hang Kho Mường): Explore the mysterious Hang Kho Mường cave in Bản Kho Mường. This cave offers an intriguing underground world with stunning formations, making it an exciting spot for adventure seekers.
Bản Hiêu – Thác Hiêu: Immerse yourself in the beauty of Thác Hiêu waterfall in Bản Hiêu. The cascading waters surrounded by lush greenery create a serene and refreshing atmosphere, perfect for relaxation and appreciation of nature.
Bản Son – Bá – Mười: Discover the charming villages of Bản Son, Bá, and Mười. Engage with local communities, witness their daily life, and gain insights into the cultural richness of the region. This is an opportunity to connect with the local way of living.
Bản Đôn: Bản Đôn offers a glimpse into the traditional stilt houses of the Thai ethnic minority. You can learn about their unique architecture and engage in cultural exchanges with the local residents.
Each of these destinations in Pù Luông offers a distinct experience, from natural wonders to cultural immersion, allowing you to fully appreciate the charm and diversity of this captivating region.
Day 1: Hanoi – Pu Luong – Bản Hiêu – Thác Hiêu 
7:30 am: Pick up the bikes at AZ MOTORBIKES and commence your journey to Pu Luong Thanh Hoa, covering about 160km. Around 9:00 am, arrive at Lương Sơn town, Hòa Bình, for a rest stop.

11:00 am: Reach Thung Khe Pass, one of the most beautiful mountain passes in Vietnam. Pause here to explore the bustling Mường ethnic market and acquire some unique souvenirs showcasing the local culture.

1:00 pm: Arrive at the Pu Luong Nature Reserve. Enjoy a delicious lunch featuring local mountain specialties. Afterward, check in to your homestay accommodation.

2:30 pm: Visit Bản Hươu, a community predominantly inhabited by the Thai ethnic group, nestled beside the stunning Thác Hiêu waterfall. Thác Hiêu is renowned for its wild and captivating waterfall scenery.

6:00 pm: Return to the homestay for dinner and relaxation. Engage in conversations with local residents to gain insights into their culture and way of life.
Day 2: Explore Pu Luong: Bản Đôn – Bản Son – Bá – Mười
7:30 am: Enjoy breakfast at the homestay amidst the breathtaking mountainous landscape.

9:00 am: Explore Bản Đôn, where traditional stilt houses of the Thai and Mường ethnic groups are preserved. Immerse yourself in their distinct cultural identity and customs.

12:00 pm: Have lunch in Bản Đôn and savor coffee at one of Pu Luong's most picturesque spots.

2:00 pm: Discover Bản Son – Bá – Mười, secluded locations that offer awe-inspiring and untouched natural beauty. These three villages retain rich traditions of the ancient Thai culture, less influenced by external forces and tourism.

5:00 pm: Return to the homestay. Upon arrival, you can relax by the swimming pool and witness the stunning sunset over Pu Luong.

7:00 pm: Enjoy dinner and unwind at the homestay.
Day 3: Exploring Pu Luong: Bản Kho Mường – Bat Cave and Return to Hanoi
7:00 am: Enjoy breakfast while soaking in the mountainous scenery.

8:30 am: Begin the journey to explore Bản Kho Mường and the "Bat Cave." Upon arriving at Bản Kho Mường, travelers can witness the natural beauty, experience, and delve into the cultural traditions and practices of the Thai ethnic people. Immerse yourself in local life and relish traditional mountainous dishes.

NOTE: To reach Hang Dơi (Bat Cave), a walk of about 3 kilometers is required, offering an immensely stunning landscape.
12:00 pm: Have lunch at Bản Kho Mường and return to the homestay.
1:00 pm: Head back to Hanoi.
TOUR PRICE
The following tour prices apply to each specific type of vehicle:
Vision / Air Blade / Honda Wave: $70 per day per person

NVX / Winner X: $100 per day per person
Honda XR: $150 per day per person
Accommodation

Meals as indicated in the above itinerary
Sightseeing fee as per the mentioned itinerary.
English-speaking tour guide following the program.
Petrol for 3 Days.
Water
Travel insurance.

Drink and beverage.
Vietnam Visa on arrival (if require).
Personal expenses.
Surcharge for staying in Single Room.
Early check in & late check out charge
Surcharge for pick up/ see off.
All domestic and international airfare tickets
Other things are not mentioned in the program.
CANCELLATION
To secure your reservation, a deposit of 20% of the total tour price is required.
In the event that you wish to cancel the tour, kindly provide notice at least 10 days prior to the departure date.
If the tour is canceled within 5 days from the departure date, the deposit amount will not be refunded.
 Pu Luong Thanh Hoa tour offered by AZ MOTORBIKES is an exceptional opportunity to immerse yourself in the untamed beauty and cultural richness of Pu Luong. Our meticulously designed itinerary promises an unforgettable experience, combining thrilling motorbike journeys with authentic encounters in local villages.
Throughout the tour, you'll traverse stunning landscapes, from cascading rice terraces to majestic mountains, and discover the soul of the region through interactions with various ethnic communities. Our eco-friendly lodges, delicious cuisine, and professional guides ensure your safety, comfort, and a deeper understanding of the local way of life.
Join us on this extraordinary journey to Pu Luong and create lasting memories amid breathtaking scenery and cultural discoveries. AZ MOTORBIKES is your trusted companion, committed to making your Pu Luong adventure truly exceptional.