Nestled in the remote highlands of northern Vietnam, Mù Cang Chải stands as a captivating tapestry of natural beauty, cultural richness, and indigenous traditions. This enchanting region is renowned for its iconic terraced rice fields that cascade down the mountainsides, creating a breathtaking mosaic that transforms with each passing season. The diverse ethnic communities, predominantly H'Mong, Thai, and Dao people, add layers of authenticity to the area's charm, showcasing their unique way of life, vibrant festivals, and intricate handcrafted textiles.
Mù Cang Chải's allure extends beyond its stunning landscapes. The winding roads and challenging terrains make it a haven for adventure seekers, particularly motorbike enthusiasts who revel in exploring off-the-beaten-paths. The journey to Mù Cang Chải offers not only a visual spectacle but also an opportunity to immerse oneself in the cultural fabric of Vietnam's highlands.
Visitors to Mù Cang Chải can expect encounters with warm-hearted locals, a chance to partake in traditional activities, and to sample delectable regional cuisine. The ethereal sunrise over the terraced fields, the tranquility of remote villages, and the sense of connection with nature create an experience that lingers long after departure. Mù Cang Chải is not merely a destination; it's an expedition into the heart of Vietnam's rugged beauty, where the intertwining threads of nature and culture create a tapestry of unforgettable memories.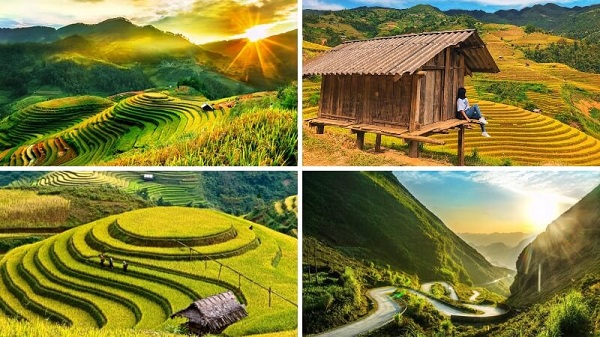 Marketing on a motorbike adventure to Mù Cang Chải with AZ MOTORBIKES presents an exceptional opportunity to explore this natural masterpiece. With a well-structured 5-day 4-night tour from Hanoi, AZ MOTORBIKES provides riders with top-notch equipment, experienced guides, and immersive cultural interactions. Traverse challenging terrains, winding roads, and remote ethnic villages to truly understand local life and traditions. This journey not only showcases the awe-inspiring beauty of Mù Cang Chải but also introduces riders to the enriching culture of Vietnam's highlands. AZ MOTORBIKES' Mù Cang Chải tour is an unforgettable escapade for those seeking adventure, nature, and cultural exploration.
TOUR ITINERARY
Duration: This tour spans 5 days and 4 nights, commencing from our shop, AZ MOTORBIKES
What to expect: When you arrive in Mù Cang Chải, you can expect to uncover unique aspects of people, culture, and iconic landscapes, including:
Unique Ethnic Culture and Landscape: Home to H'Mong, Thai, and Dao communities, you'll delve into their customs, daily life, and rich cultural tapestry.

Majestic Terraced Rice Fields: Mù Cang Chải is famous for its vast terraced rice fields, morphing with seasons into a distinctive and breathtaking panorama.

Extraordinary Adventure: Offering thrilling trails, Mù Cang Chải captivates adventure seekers, providing diverse routes for exhilarating experiences and skillful driving trials.
IN DETAILS
Day 1: Hà Nội – Mù Cang Chải (Approx. 300km)
Morning: Depart from Hanoi on motorbikes, heading northwest toward Mù Cang Chải. Feel the excitement and enthusiasm of the upcoming adventure. Ensure your bikes are well-maintained and safety gear is in place.
Stopovers:

Along the way, pause at scenic spots like Chùa Hương Bridge for photos and relaxation. Later, at Đèo Ô Quy Hồ, a challenging route for avid riders, take a break to unwind in the natural surroundings.

Noon:

Rest and have lunch in a town en route, recharging for the journey ahead.

Afternoon:

Continue toward Mù Cang Chải, checking in at a homestay or hotel. Encounter diverse landscapes on off-the-beaten paths. Embrace the refreshing atmosphere and the ever-changing natural beauty.

Evening:

After checking in, explore Mù Cang Chải village at your leisure. Engage with locals to grasp their lifestyles and culture. Enjoy a local dinner and rest for the days ahead.
Day 2: Mù Cang Chải – La Pán Tẩn – Mù Cang Chải
Morning: Embark on your journey from Mù Cang Chải, ascending the mountain pass to La Pán Tẩn village, where you'll be greeted by the opportunity to immerse yourself in a splendid sunrise over the sprawling terraced fields.
Afternoon

: Return to Mù Cang Chải and relish a delightful lunch at this locale.

Evening

: Unveil the treasures of the afternoon as you explore neighboring villages such as Cao Nguyên and Khao Mang on foot or by motorbike, where you'll bear witness to the distinctive local life and culture.

Night: Retreat to your homestay or hotel, allowing for relaxation and rejuvenation, readying for the following day's adventure

.
Day 3: Mù Cang Chải – Tu Le (Distance: 70km)
Morning: We will continue our journey towards Tu Le, traversing along picturesque roads.
Noon

: Enjoy lunch in Tu Le, followed by a relaxing break at a homestay or a local residence.

Afternoon

: Explore Thanh Kim village, engage with the local community, and learn about their way of life.

Evening

: Indulge in a local dinner and unwind for the night.
Day 4: Tu Le – Mù Cang Chải
Morning: We journey back to Mù Cang Chải, immersing ourselves in the captivating beauty of the Cao Sơn, Lao Chải, and Kim Nọi villages. These villages offer picturesque landscapes, perfect for photography and exploration.
Noon

: Indulge in a hearty lunch back in Mù Cang Chải, savoring the local flavors that reflect the region's culinary richness.

Afternoon

: The afternoon presents an opportunity for personal exploration amidst the mesmerizing landscapes of Mù Cang Chải. Enjoy the tranquility and serenity of this captivating destination.

Evening

: Our final night unfolds at either a homestay or a comfortable hotel, offering a chance to reflect on the journey while surrounded by the warm embrace of local hospitality.
Day 5: Mù Cang Chải – Hà Nội (Distance: 300km)
Morning: We start the day by packing up, organizing our belongings, and preparing to depart for Hà Nội. On the journey back, we make intriguing pit stops at the memorable places we've experienced.
Afternoon: Arriving in Hà Nội, we conclude our journey, marking the end of this remarkable adventure.
TOUR PRICE
The following tour prices apply to each specific type of vehicle:
Vision / Air Blade / Honda Wave: $70 per day per person

NVX / Winner X: $100 per day per person

Honda XR: $150 per day per person
Included
Accommodation

Meals as indicated in the above itinerary

Sightseeing and entrance fee as per the mentioned itinerary.

English-speaking tour guide following the program.

Petrol for 5 Days.

Water
Excluded
Travel insurance.

Drink and beverage.

Vietnam Visa on arrival (if require).

Personal expenses.

Surcharge for staying in Single Room.

Early check in & late check out charge

Surcharge for pick up/ see off.

All domestic and international airfare tickets

Other things are not mentioned in the program.
CANCELLATION
This tour does not incur any additional cancellation fees. You have the option to cancel the tour up to 7 days prior to departure in order to avoid the full payment, but please note that the initial deposit is non-refundable. Unfortunately, cancellations made within 4 days of departure are not eligible for a refund.
The Mù Cang Chải Tour offered by AZ MOTORBIKES is an invitation to embark on an extraordinary journey through the heart of Vietnam's natural and cultural wonders. With their unwavering dedication to quality, authenticity, and responsible travel, AZ MOTORBIKES ensures that every moment of your adventure is crafted to perfection.
From the awe-inspiring terraced rice fields to the enriching encounters with local communities, this tour promises an immersive experience that transcends the ordinary. With experienced guides, well-maintained motorbikes, and a deep respect for the environment and local cultures, AZ MOTORBIKES guarantees your safety, comfort, and an unforgettable adventure.
Whether you're an adventure enthusiast seeking thrilling trails or a culture aficionado yearning for authentic interactions, the Mù Cang Chải Tour by AZ MOTORBIKES is tailor-made to fulfill your travel dreams. So, embrace the opportunity to explore the breathtaking landscapes and rich traditions of Mù Cang Chải with a team that is passionate about creating memories that will last a lifetime. Your journey awaits – let AZ MOTORBIKES be your guide to an exceptional Mù Cang Chải experience