Legally, any biker can traverse the borders from Vietnam to Laos, Cambodia, and Thailand with their motorbike. All that's required is a Vietnam-registered vehicle and the essential paperwork in place. We have many customers crossing from Vietnam to Laos and Cambodia, returning to Vietnam without a hitch. This expertise positions us to assist you.
We're eager to impart our top recommendations concerning the necessary documentation, viable border crossings, and valuable insights for motorbike border transitions and journeys in the adjoining nations. Share your plans with us ahead of time, allowing us to meticulously orchestrate your seamless border-crossing adventure.
Essential Documentation for Motorbike Border Transition
Passport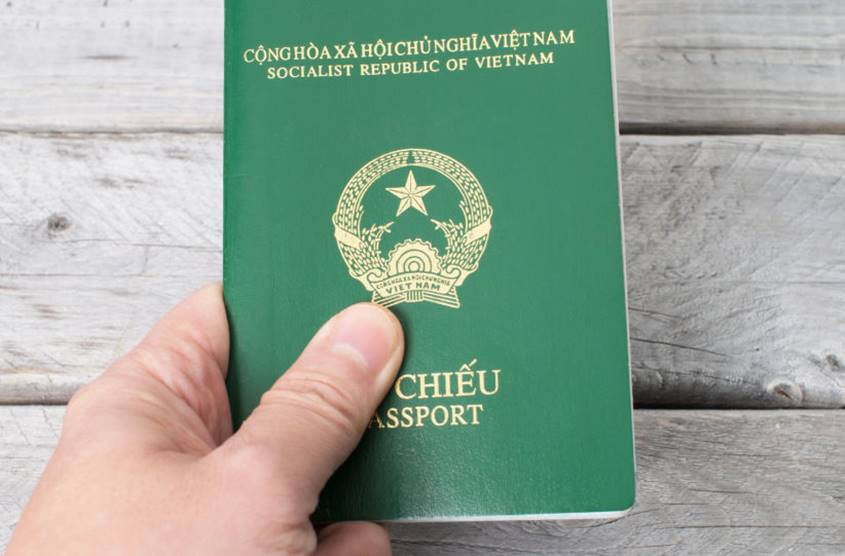 For any border clearance process, possessing a passport is non-negotiable. It acts as your primary legal identification and without it, entry into any nation is forbidden. The absence of a passport means there's no legal ground for your migration, rendering your attempt to cross the border null and void in the eyes of the immigration officials.
Motorcycle documents
You must carry all relevant documents for your motorbike. Discrepancies or issues with these papers can hinder your ability to cross the border. In extreme cases, if documentation is not in order, Customs may suspect potential illegal activities, such as motorbike smuggling or other legal infringements.
At AZ MOTORBIKES, we take pride in offering a premium bike rental service, specially catered for cross-border journeys. With a diverse range of high-quality bikes such as the Honda XR, CBR, R15, and Winner X, so on, we ensure to meet every preference and need of our esteemed clients. Particularly, when you opt for our services, all procedures and related documents for the bike are seamlessly handled by us, allowing you to relax and fully immerse yourself in the joys of your adventure.
Navigating the border on a motorbike between Vietnam and Cambodia
Xa Mat border gate to Cambodia
After presenting the necessary documents, crossing the border with your motorbike becomes straightforward. When asked about your reason for transporting the motorbike across, it's typically for travel, exploration, or experiencing the scenic beauty of neighboring countries. However, it's crucial to commit to prioritizing your safety, being respectful to the local inhabitants, and assuming full accountability for any unforeseen issues that might arise during your stay.
Upon reaching the border checkpoint, you'll first handle the immigration procedures on the Vietnamese side, guiding your motorbike through the designated path. When inquired about your destination or purpose, simply state that it's for tourism. Subsequently, you'll proceed to the Cambodian border where you'll engage with their customs officials. They may inquire about the specifics of your journey and will typically charge a fee of around 50,000 VND (~2 USD). Once your passport receives the official stamp, you're free to continue on your journey.
Navigating the border on a motorbike between Cambodia and Thailand
Poipet border gate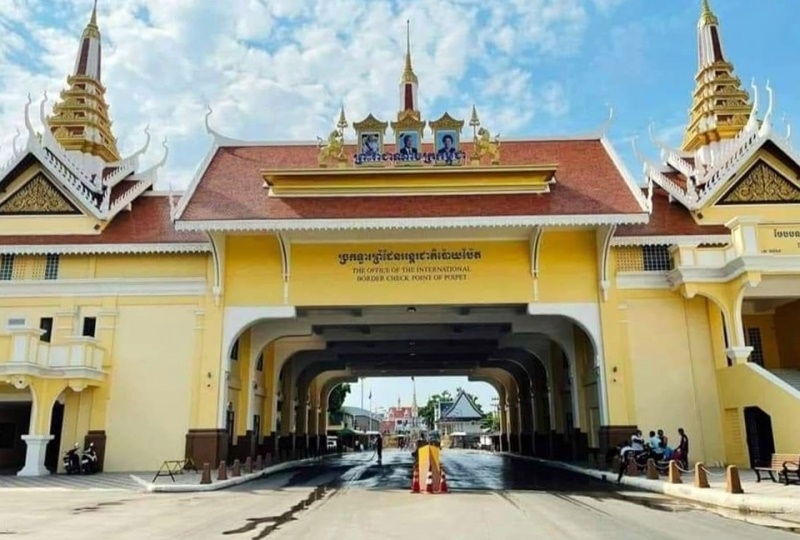 Poipet border gate
Crossing the border on a motorbike between Cambodia and Thailand is relatively straightforward for riders. Both Cambodian and Thai officers are conversant in English, facilitating smoother communication.
The process entails clearing procedures at two checkpoints. Start by completing the required formalities on the Cambodian side before heading over to the Thai side. Once at the Thai border, park your motorbike at the designated checkpoint. If you're uncertain, don't hesitate to ask the on-site staff for guidance. Following this, proceed upstairs to complete the immigration steps. This will involve a photograph and receiving a stamp to verify your entry.
Following the immigration formalities, head back to the parking area and hand over your motorbike documents and passport to the staff. They will take copies and process the necessary paperwork. Expect to wait around 30 minutes for this part of the procedure to be finalized. Before retrieving your motorbike, there's a fee of 40 baht to be settled.
Next, you'll ride a short distance to another checkpoint. Here, the staff will direct you to the appropriate parking area and guide you through the detailed procedures. They'll thoroughly review the details on your motorbike's documents. This verification usually takes about 15 minutes. Once everything is in order, you're free to continue on your journey.
Navigating the border crossing with a bike into Thailand or Laos
Savannakhet border gate in Thailand

Savannakhet border gate in Thailand
Bikes are typically prohibited at these crossings, preventing you from taking your bike across this border. This is because the borders between Thailand and Laos often span friendship bridges. Whether you can ride a bike across these bridges is contingent on the regulations of each specific border checkpoint. Given this restriction, you might find it challenging to enter Laos with your bike. One workaround might be to transport your bike inside a car. However, there aren't any services offering cross-border car rentals. Consequently, seeking assistance from an individual or local contact might be your best bet.
Savannakhet border gate in Lao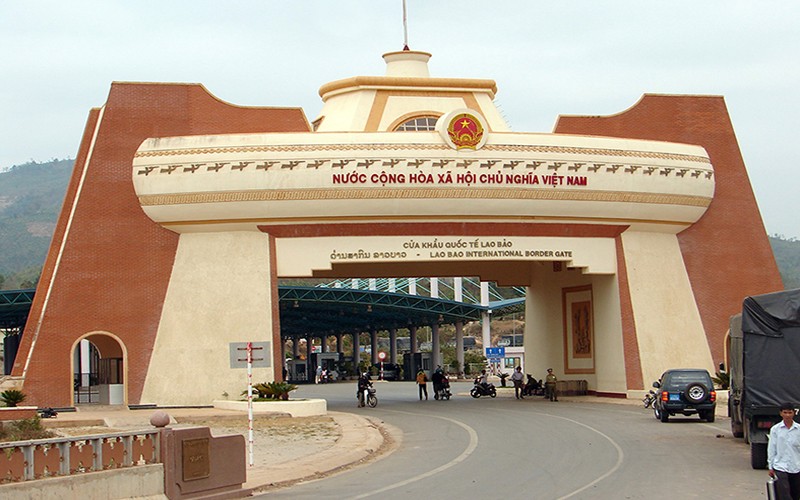 When entering Laos, it's imperative to clarify the purpose of your visit and present all the documentation acquired during your travels through Cambodia and Thailand. The combined processing fee at both the Thai and Lao borders amounts to 70 baht.
Navigating customs for travelers is generally more straightforward than for vehicles, especially bikes. You can converse with the customs officials in English or Thai. When crossing into Laos, Vietnamese can also be an option. For a smoother and more hassle-free experience, it's recommended to use the Chong Mek – Vang Tao land border crossing.
Tips for Journeying through Cambodia, Laos, and Thailand
When journeying through these nations, consider the following aspects:
In Cambodia
Cambodia's roads bear a close resemblance to Vietnam's. Despite the prevalence of bikes, locals seldom use their horns, whether in urban or suburban areas. Tuk-tuks are a primary mode of city transport. Remember to avoid using your horn to minimize noise pollution and foster better traffic etiquette.
In Thailand
Thailand is in the process of enhancing its road infrastructure. Vehicles traveling at high speeds dominate the roads. Be alert to signs restricting bikes. The Thais drive on the left, unlike the Vietnamese. Common public transports include tuk-tuks, taxis, and trams. Beware of roads where bikes are prohibited.
In Laos
Laos roads have many similarities to those in Vietnam. Bikes remain a primary mode of transportation, and major cities witness substantial car traffic. Compared to Cambodia and Thailand, navigating Laos on a bike is relatively easier.
Embarking on a border-crossing adventure on a bike through Cambodia, Laos, Thailand, and Vietnam promises unforgettable memories for adventure and trekking enthusiasts. Seize the opportunity to enrich your travels in these captivating lands.
Suggested Rewrite:
Recommended Reading: Acquiring a Motorbike License in Vietnam & Common Queries Answered.