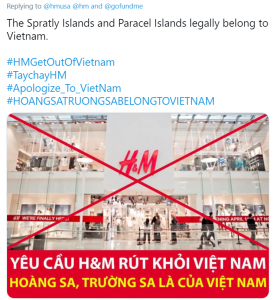 H&M said last week it wanted to regain the trust of its customers in China
Vietnam's netizens are furious at Swedish fashion retailer H&M after it posted China-claimed nine-dash line on its website to flatter Beijing.
The incident happened over the last two days, triggering widespread boycott of the 74-year-old fashion company that is performing well in Vietnam.
Boycotting entries go viral on social platforms, mostly Facebook and Twitter with hashtags
Protesters include artists who ever supported the presence of the fashion brand in the country since 2017.
Meanwhile, a number of local netizens said they abandoned their H&M belongings.
H&M Vietnam has refused to be available for media.
H&M entered Vietnam in 2017. The day it made debut in Ho Chi Minh City and Hanoi attracted 12,000 and 14,000 customers, respectively. After two years of operating in the country of nearly 100 million people, it made revenues worth VND1.11 trillion (US$48.5 million) in 2019.
Beijing's unilateral nine-dash line that covers Vietnam's waters is the mark China uses to consolidate its expansionism in the South China Sea (called East Sea by Vietnam) where the giant country claim up to 90%.
H&M published the illegal map after it was alerted by the Cyberspace Administration of China – Shanghai branch of "problematic map of China" the company's website.
It did not specify what was wrong with the illustration but H&M managers "corrected the error as soon as possible" after being summoned to meet with regulators, according to foreign media.
Recently, H&M goods have disappeared from China's major e-commerce platforms and been criticized by announcing it would no longer buy cotton from Xinjiang over labor abuse.
At present, the company operates 12 stores in Vietnam, compared to 520 in China.
H&M said last week it wanted to regain the trust of its customers in China.
"China is a very important market to us and our long-term commitment to the country remains strong. We are working together with our colleagues in China to do everything we can to manage the current challenges and find a way forward," it said.
CopyrightbyHanoitimes